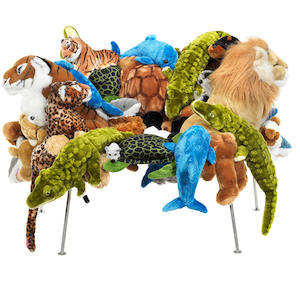 Fernando and Humberto Campana for Estudio Campana Banquette Chair designed 2002 embroidered campana no 39 soft toys and brushed stainless steel Height: 86 cm. 33 7/8 in.
Modern and Contemporary Design
Bonhams have a long standing history of selling high quality modern design furniture, and are the first auction house to have a department specifically dedicated to the subject matter. Our international auctions staged in London, New York and Los Angeles focus on furniture by the leading architects, artists and designers of the 20th and 21st centuries. The sales offer works by the early modernist masters such as Alvar Aalto, Marcel Breuer and Le Corbusier, through to cutting edge contemporary designers including Ron Arad, Marc Newson, Shiro Kurmata and Tom Dixon. Whether you are interested in the elegant lines of mid century modern Scandinavian furniture, the vibrant optimism of post war Italian design, the iconic pop pieces of the 1960s or the uncompromising esthetic of Studio Alchymia and UK creative salvage, the Bonhams design auctions will include something for every taste.
The market for modern design is currently very buoyant and this is reflected in the strong prices we have recently achieved for key works.