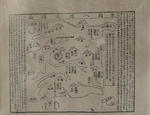 The Dr. Hendon M. Harris Jr. Korean Atlas Collection.
[Korea; c.1700 to late 19th Century.] A collection of six Korean woodblock atlases, various sizes. The collection comprising:

A. Ch'onha chido [Atlas of all under Heaven], [early 18th century], on mulberry paper, small 12mo, 165 x 80mm (maps fold out to 330 x 330 mm). 10 woodblock maps mounted back to back, with a ch'onhado (world map), map of China, and 8 maps of the provinces of Korea, all folded into the small pocket sized book (likely to be carried by an administrative official). Original thick mulberry paper covers. All maps with strong fold lines and a few parts of loss at fold junctions, the world map missing the western quarter, the last province map of Kangwon-do lacking eastern quadrant, some light damp staining the maps labelled in manuscript on verso.

B. Ch'onha chido, [mid 18th century]. On mulberry paper, 4to, 300 x 185 mm. 10 hand-colored woodblock maps are mounted in concertina format, they comprise the World, Japan and the 8 province maps of Korea, bound into thicker mulberry paper covers. the maps with central ceases, covers worn, a few small clean tears. the reverse of the concertina has been used by a calligrapher with 18 stylized Chinese characters in Korean brushwork, possibly templates for embroidery designs.

C. Ch'onha chido, [late 18th century]. On mulberry paper, tall 4to, 325 x 175 mm, (maps 325 x 355 mm). 10 double page woodblock maps, mounted back to back, comprising the world, China and 8 maps of the provinces of Korea. Lacking the eastern part of Kyongsang province map, some general staining and wear, thick mulberry paper covers.

D. Ch'onha chido, [late 18th century]. On mulberry paper, large 4to, 290 x 185 mm (maps 265 x 315 mm). 13 woodblock maps mounted in a double concertina format, with World, China, Korea, Japan, Okinawa, and the 8 provinces. Slight wear, covers of thicker mulberry paper, one cover with a manuscript genealogy for a person named Lee.

E. Ch'onha chido, [early 19th century]. On mulberry paper, map size 330 x 390 mm. 11 hand colored woodblock maps mounted back to back, comprising World map, China, Korea and the eight provinces, seas filled in black, three small worm holes to world map, without covers.

F. Ch'onha chido, [mid 19th century]. An unfolded atlas of 12mo format (pocket use), on mulberry paper with thicker backing, each map 300 x 350 mm. 13 woodblock maps (World, China, Korea, Japan, Ryukyu islands, and the eight provinces), the maps each with a manuscript title on verso and with touches of blue and other colors, all with old creases along folds some with wear and a few tears. WITH: an additional Ch'onha chido, a Korean 20th century photographic reproduction of a 18th century example, 13 maps.

The fine and rare collection of woodblock Korean atlases, purchased by Dr. Harris from antique shops while on his missionary travels in Korea during the early 1970s. Dr Harris used the trade of Chinese and Korean works of art to fund his Christian Missions into China and Korea. These atlases were issued by the Korean authorities in the 18th and 19th centuries (possibly earlier) to help train each new generation of administrative officers to govern the provinces of their country, and a knowledge of the geography of their own and neighboring countries was part of that training. They are now all considered to be extremely rare; there a few examples in the Library of Congress Asian map collections, and in some national map collections around the world, and in 40 years of auction records only one woodblock and three manuscript versions of such atlases have come to the market.

These Korean atlases are accepted to be derived from earlier Chinese maps, and taking this as a starting point Dr Harris's research on the world images in these atlases, took him back to Chinese sources (now lost) where Chinese reports and maps comment on an American continent. This analysis of the world maps that front these archaic atlases, was the basis of his book, The Asiatic Fathers of America (Taipei 1973). In the last decade his daughter Charlotte Harris Rees has continued his research, and written and lectured widely on the subject.