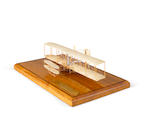 WRIGHT FLYER MODEL MADE FROM THE ORIGINAL FABRIC OF THE FIRST AIRPLANE
1:42 scale model of the 1903 Wright Flyer flown at Kitty Hawk, in wood, covered with original fabric taken from the Wright airplane itself. 11-1/2 x 5-1/2 x 3-1/2 inches (292 x 140 x 89 mm), mounted to wooden base with Plexiglas cover.
Accompanied by letter of authenticity by Lester Gardner, stating "When Orville Wright, at my suggestion, assembled the Kitty Hawk machine for public exhibition for the first time... he found that the original fabric could not be used and substituted new fabric... When he died, his executors found that he had preserved some of the original coverings of the wings and entrusted them to me for distribution to notable aeronautical friends."
Provenance: The Otto Kallir Collection of Aviation History, Sotheby's June 14, 1993.

In 1916, Orville Wright partially re-covered the wings of the 1903 flyer prior to its display at Massachusetts Institute of Technology. Later, in late 1926 and early 1927, Orville completely re-covered the original 1903 Flyer in new muslin fabric, in preparation for sending it to be displayed in London. Intended to pressure the Smithsonian Institution into recognizing the accomplishment of the Wright Brothers, the London exhibit ultimately forced the Smithsonian to relent in order to obtain the original flyer for display.

Lester Gardner was the Editor in Chief of Aviation and Aeronautical Engineering from 1916 to 1921, a founder of the Institute of Aeronautical Sciences, and a friend of Orville Wright. He worked with Wright to arrange for the first public display of the original flyer at M.I.T. in 1916.