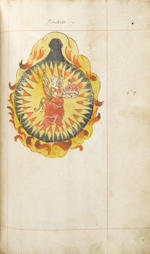 ALCHEMY.
[The Crowning of Nature, or Coronatio Naturae.] Original alchemical manuscript on paper, ruled in red, with watermark of the arms of Schieland [see Heawood 481], folio (320 x 200 mm), 87 pp comprised of three sections: a 12 pp of introduction in Latin, including an address to the reader and brief discussion of the elements, 8 pp English translation of aforementioned address including one page with partial illustration, and 67 brilliant colored illustrations, pen-and-ink and watercolor, plus blanks, nineteenth century red armorial morocco gilt by Bedford, with the arms of the Duke of Northumberland, a.e.g., vellum endpapers, minor soiling, spine lightly sunned, some scuffing at joints.
Provenance: William Cooper, bookseller (1639-1689, manuscript note); Rainsford "bought of Heard in Picadilly"; General Charles Rainsford (1728-1809); Hugh Percy, Second Duke of Northumberland (1742-1817); by descent.

A HIGHLY IMPORTANT ALCHEMICAL MANUSCRIPT. The only known copy in private hands of the complete series of 67 sequenced alchemical drawings depicting the chemical processes which would lead to the elusive and alluring "Philosopher's Stone."
Also known as Sapientia Veterum ("The Wisdom of the Ancients") and Opus Angelorum ("The Work of the Angels"), The Crowning of Nature is believed to have crystallized in its existing form in the 16th century as a symbolic guide to creating the most sought-after goal in Alchemy, the "Philosopher's Stone," a mysterious, primal substance that would transform base metals into precious, and even produce an "elixir of life." Each detailed, finely colored illustration depicts a beaker, or flask, containing various contents both tangible and symbolic, and headed in manuscript with the name of the chemical stage depicted: "Preparation," "Devision," "Acuation," "Putrefaction," "Multiplication," etc, leading ultimately to "Fixation." In the tradition of alchemical writings, the images can be read on many levels, both material and metaphoric.
This copy is from the library of the important 19th-century alchemist General Charles Rainsford. Upon his death his alchemical papers passed to Hugh Percy, 2nd Duke of Northumberland, a direct descendant of the "Wizard Earl," who was given the name for his own alchemical experiments (before he was imprisoned by James I for his role in the Gunpowder Plot). It remained at Alnwick Castle from 1809 until recently. An intriguing note on the flyleaf in Rainsford's hand states, "I believe these MSS to have been Eirenaeus Philalethes own writings," referring to the pen name of George Starkey, the first published American scientist, reputed to have taught chemistry to Robert Boyle and a profound influence on Sir Isasc Newton. An inscription (in Hebrew) on the first drawing suggests that one "William Waldy" may feature prominently in the text's chain of transmission--an reference echoing a very similar one (in Latin) found in a Cambridge University exemplar of the mss work. Like most alchemical manuscripts the authorship of this one remains unknown, and while there are at least 40 surviving manuscript copies of the work, most are later, and many incomplete. This manuscript stands out as one of the finest and most interesting alchemical texts remaining in private hands.
Saleroom notices
Further research has revealed the first 8 pages of introductory material comprise an early manuscript copy of Michael Sendivogius's De Sulfure (1916).