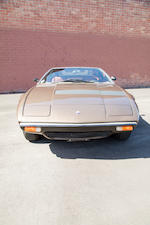 1976 Maserati Khamsin
Coachwork by Bertone
Chassis no. AM120-210
Engine no. AM120-210

4,930cc DOHC V8 Engine
Bosch Electronic Fuel Injection
320bhp at 5,500rpm
5-Speed Manual Transmission
4-Wheel Independent Coil Spring Suspension
4-Wheel Power-Assisted Hydraulic Disc Brakes

*Desirable European 5-speed version with just one owner from new
*Fewer than 28,000 original kilometers
*Exquisitely and extensively documented from new
*Beautifully preserved and highly original condition

THE MASEARTI KHAMSIN

Maserati's final major introduction while under Citroën's control, the Khamsin - named after a hot Sahara Desert wind - debuted at the 1972 Turin Show and entered production in 1974. Styled and built at Bertone, the Khamsin's attractive, unitary-construction, 2+2, hatchback body was of all steel construction. The front-engined Khamsin featured state-of-the-art, all independent, double-wishbone suspension similar to that of the mid-engined Bora and Merak which, combined with a 50/50 front/rear weight distribution, endowed the Khamsin with near perfect balance; and if its grip level was ultimately inferior to the Bora's, then the Khamsin's conventional layout made it easier to control close to the limit.

Citroën's hydraulic technology (as found in the Maserati-engined Citroën SM) was employed to power the brakes and steering - the latter, in particular, being rated as highly effective by testers - and also to raise the concealed headlamps. The power unit was a longer-stroke, 4.9-liter version of Maserati's familiar quad-cam V8 developing 320bhp at a lowly 5,500rpm and a lusty 354lb/ft of torque at 4,000 revs. A five-speed ZF manual gearbox or three-speed Borg-Warner automatic transmission were options, and when equipped with the former the Khamsin was good for around 240km/h (150mph). Although seemingly less exotic than the mid-engined Bora supercar, the Khamsin was Maserati's biggest-engined and most expensive offering at the time of its introduction, and thus could justifiably claim to be its top-of-the-range model. By virtue of its front-engined layout, the Khamsin offered greater practicality, providing a roomier and more comfortable interior and superior luggage carrying capacity.

A mere 430 examples of this most exclusive and consummate Grand Routier had been made when production ceased in 1982.

THE MOTORCAR OFFERED

Finding a Khamsin is rare—finding a single owner from new example is nearly impossible. This Khamsin was ordered new by the seller in the summer of 1976 and produced on July 27, 1976. Finished in Luci del Bosco over Marron hides with a ZF manual gearbox, the original purchase invoice indicates the price paid for the new Maserati was $19,000. The car was equipped for European market specifications, with the slim bumpers and metric gauges. Per the original warranty card on file, delivery was completed on June 20, 1977 with the warranty lasting for all of six months.

Showing just under 28,000 kilometers from new, this beautifully preserved, one-owner from new Maserati is accompanied by reams of rarely seen paperwork and documentation that only and original owner would have amassed and only a true enthusiast would have kept. Paint and fabric swatches provided to aid in choosing the livery of this car start the documentation while the original sales brochures, order invoice, bill of sale, importation records, warranty card made out to the sole owner, owner's handbook, tools, correspondence and records round out the remaining four decades of history.
This exquisitely documented and beautifully original single-owner Khamsin represents a lifetime of care and record keeping. It is most certainly an opportunity not to be missed.
Saleroom notices
Please note, that this car is equipped with carburetors as is factory correct, and not fuel injection as stated in the catalog. Its correct engine number is AM115/10/49 210. Also note due to California emissions laws, this vehicle may only be sold to an out-of-state resident for use outside the state of California or to a licensed automotive dealer.