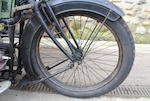 1912 Williamson 964cc 8hp Motorcycle Combination
Registration no. N 7200
Frame no. to be advised
Engine no. to be advised
• Rare survivor of a little known make
• Formerly part of the Potter Collection
• Regular Pioneer Run participant

On 19th March 1912 Motor Cycling magazine announced, 'the present demand for passenger machines has encouraged that well-known member of the motorcycle trade, Mr W Williamson, to place on the market under his own name an 8hp two-speed side-car combination. Two models are made, one being fitted with an 8hp water-cooled engine and the other with an air-cooled motor.' The aforementioned Mr Williamson was indeed no stranger to the world of motor manufacturing, having founded the Rex concern in Birmingham in 1899 together with his brother, Harold. Rex began by building motor cars before branching out into motorcycle making in 1900, by which time the firm had relocated to Coventry. When the Williamson brothers were ousted from Rex in 1911, Harold became sales manager at Singer while William started his own eponymously named make of motorcycle.

Motor Cycling reported that the new Williamsons were powered by horizontally opposed, twin-cylinder Douglas engines with heavy external flywheel, quoting cylinder dimensions as 85x85mm bore/stroke (for a capacity of 965cc); interestingly, the air-cooled and water-cooled engines were interchangeable. It is believed that the air-cooled machines were used primarily for racing.

This rare survivor of a little known marque carries a Manchester registration number and comes with an old-style RF60 logbook dating from 1925. It was owned that year by one Matthew Laurie of Staveley in Westmorland, and appears to have been acquired for the Potter Collection in 1956. Then, as now, it was in that delightfully original condition that no restorer can replicate. An invoice on file shows that the basket sidecar was supplied in 1956 by the Cumberland & Westmorland Workshops for the Blind in Carlisle, while other noteworthy features include a Brooks saddle, bulb horn, Bosch magneto, and Binks carburettor. The starting handle is mounted on the offside of the frame.

Purchased from the Potter Collection in November 2007, the machine was re-commissioned by Tony Leedal in December 2008 (see invoice for £1,685 on file) and since then has participated in several Pioneer Runs. Accompanying documentation consists of a Pioneer Certificate, assorted correspondence and press cuttings, a V5C Registration Certificate, and the aforementioned invoice and RF60 logbook.

The latter document (issued 1925) records the date of original registration as 3rd June 1921, this being shortly after the introduction of the Roads Act of 1920, which required local councils to register all vehicles at the time of licensing and to allocate a separate number to each. (Many vehicles, although in existence for several years in some cases, were only registered for the first time after the Act's passing). It should be noted that no frame or engine numbers are recorded on this logbook.
Footnotes
Saleroom notices
We are unable to locate the frame number. The engine number is 219.