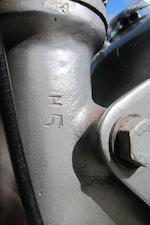 1957 Triumph 348cc Twenty One
Frame no. H5
Engine no. 21 H5
• Earliest surviving Twenty One
• One of the first batch produced
• Historically significant
• Superbly restored

The Triumph Twenty One was first displayed in March 1957, at the RAI Motorcycle Exhibition in Amsterdam. As a result of the exhibition, the first order was from the Dutch importer, Stokvis & Zonen, who duly received the first batch comprising H1, H2, H5 and H6. From these only H5 and H6 are thought to have survived.

H5 was discovered in a shed in Holland when the previous owner was looking for a machine to restore. Aware of the significance of the early machine, he felt compelled to buy and restore it. The latter he did thoroughly. The frame and all the cycle parts were stripped and repainted in the original 'Polychromatic Silver Grey' colour. The engine was stripped, and all bearings were replaced as a matter of course, although the machine appeared to have seen little use, and the pistons, valves, and cylinder bores only needed cleaning. All the clutch parts are original, as is the Vokes air filter housing, although no substitute element could be found. Original fork stanchions were hard-chrome plated and reground to size. The carburettor was refurbished by a specialist, the distributor was restored by Roy Price. A new wiring harness was fitted, the coil is the original Lucas. Both chains were replaced with new, exhaust pipes were re-chromed and the silencers replaced. Both wheels were rebuilt with new old stock rims, new spokes, and wheel bearings replaced. Apart from the colour, which Triumph later changed to Shell Blue, there are several differences between this early example and later ones. The lack of the seam on top of the petrol tank, for one, and the absence of the tank parcel rack for another.

After restoration of H5 it was displayed, with H6, at the 2004 Classic Motorcycle Show on the Triumph Owners Club stand, and awarded a class win. H5 was seen at the show by the present owner, and when he later saw it for sale, he made contact, a deal was agreed, and he duly collected the machine from Holland. The vendor has kept it in dry storage, replaced the tyres and tubes, and has started the bike at regular intervals. It should only need a basic service and very light re-commissioning before use by a new owner.

Documentation consists of a Dutch registration document bearing the same registration it has had from new, some notes about the machine's history and restoration, sundry photographs, and a copy instruction manual and parts list.
Footnotes