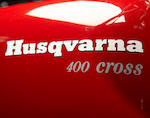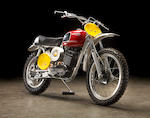 Ex-James Garner
1970 Husqvarna 400 Cross

Frame no. MH3131
Engine no. 401718

• Lusty single-cylinder big-bore Husky
• Restored

Best known for his television work on the 'Maverick' and 'Rockford Files' television series, actor James Garner became an auto-racing fan during the filming of 1966's Grand Prix, a feature movie about Formula One racing. Garner played Pete Aron, an American driver on the comeback trail. In real life, Garner's love of and involvement in motorized competition rivaled that of fellow actor/racers Steve McQueen and Paul Newman. He was co-owner of the AIR (American International Racers) team, which fielded endurance road racing Chevrolet Corvettes in the late 1960s. Off-road racing was another of Garner's pursuits, most famously behind the wheel of the Olds 442 'Goodyear Grabber' Baja racer, which he drove to second-in-class in the 1969 NORRA Mexican 1000.

No doubt influenced by their pal McQueen, Garner and fellow actor James Coburn – who had both costarred with McQueen in the 1963 smash hit The Great Escape -- purchased Husqvarna 400 Cross models. Swedish firm Husqvarna, a name unheard of across the Atlantic until the late 1960s, had introduced a series of Open-class two-stroke motocrossers, first a 360, then a 400, featuring a lusty single-cylinder engine suspended in a lightweight steel frame. As this was before plastic bodywork, the bike came fitted with alloy fenders front and rear, and a painted steel gas tank with signature chromed panels, intended prevent a rider's knees from marring the paint. This beautiful, comparatively airy, big-bore Husky combined fearsome power, superior handling and rakish good looks – a winning combination that quickly made headlines and hastened the demise of four-stroke off-road Thumpers.

Garner's 1970 400 Cross has been restored. Researching the bike, in talks with daughter Gigi she recalled McQueen and her father racing their Huskys on the street outside the former's estate in Brentwood, a quiet neighborhood on Los Angeles' toney Westside. The bike is sold with a title in James Garner's name.
Footnotes
Saleroom notices
Offered with a Bill of Sale.