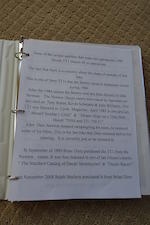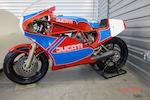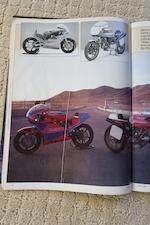 1984 Ducati 748cc TT1 Road Racer

Frame no. 6
Engine no. DM600L*702481*

• One of three works European endurance racing machines
• Brought to the U.S. by Dale Newton

This well documented TT1 is the rarest of the rare. It's one of three factory race shop built and entered endurance racers in the then popular Endurance World Championship. It was taken from the total production of 50 TT2s (the earlier, smaller 600) and thus was only one of a tiny handful of which were subsequently "kitted" in 1984 as a 750 by the factory, and thus re-named as a TT1. They were indeed genuine replicas of Tony Rutter's factory TT1. Well-known American Ducati patron the late Dale Newton continued building the "TT1 legend" with this very bike which he bought from Ducati directly. The motor was based on the Pantah belt-drive, desmo 500 (then 650), as a TT1 it had a 88mm bore and a 61.5mm stroke for 748cc, with a first quoted 80 horsepower. (As the bike was race tuned there were rumors of as much as 95bhp.) At about 130kg (286.3lb) dry, equipped with Italy's finest contemporary components such as Marzocchi magnesium forks and Brembos all around, plus a (factory only) wider aluminum cantilever swing arm to take a wider rim and tire, the compact TT1 was both ground-breaking fast and exquisitely handsome.

This bike, 750 TT1 chassis no. 6, is one of near identical twins. That is to say it was equipped with the unique lower mounting point for the engine vapor catch tank on the right side. This new bike was one of those that attended the Imola test of the new factory 750 F1 race bikes. The engine has the factory "Ascension" (for "Upgrade") kit installed; this enhanced the TT2 motor (DM600L 702481) to a full-race 750.

Dale Newton bought two 600 TT2s and two 750 TT1s – this bike being one of them - from the factory. Brian Dietz purchased this bike from the Newton estate – it was the last bike that Dale Newton had restored - in September 1999, selling it on to Ralf Stechow in November 2008. It was acquired by the seller shortly thereafter and was carefully prepared for storage. Although, as previous explained, it is one of two to this specification, much of the bike is unique unto itself, all carefully kept intact during restoration. It retains the endurance racing-spec. quick-release rear wheel kit, for example.

Given the uninterrupted impeachable provenance, its successful race history, and current high quality patina, it can be considered the genre's finest example, and perhaps the reason frame no. 6, this bike, is featured in Ducati, the Untold Story by Alan Cathcart (Osprey Publishing), and Ducati Racers (Haynes Publishing) by Ian Falloon. Dale Newton, a most dedicated and successful privateer in the USA, hired such riders as Kevin Schwantz and African-American John Williams (who did race this TT1) and was able to tell the story in Cycle magazine (twice) in the April 1985 edition. An extensive history file comes with the bike.
Footnotes
Saleroom notices
The Ducati race shop did not build a TT1 for Tony Rutter. Thus this factory-built TT1 was not actually a replica of Tony Rutter's factory TT1 as incorrectly stated in the catalog. Offered on Bill of Sale.