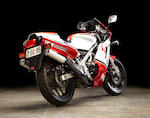 1985 Yamaha RD500LC

Frame no. 47X00 1366

• Only 1,279 miles from new

Introduced in 1984, the RD500LC was a street legal, road going version of Yamaha's factory YZR500 competition motorcycle which at the time was leading the world championship with Kenny Roberts. This wasn't a motorcycle based upon a current production model intended for the road, but a fresh adaptation of a factory race machine, the closest thing to a Gran Prix motorcycle the average rider could get. The 499cc V-4 two-stroke engine developed 88 bhp @ 9500 rpm in its tuned for the street form. The liquid cooled engine was a 50° twin crankshaft V-4 with the dual crankshafts geared directly to the wet, multi-disc clutch. With four 26mm Mikuni carburetors using reed valve induction, the carburetors were necessarily mounted at the sides of the cylinders but on 90° manifolds to reduce the width of the engine package. The transmission was kick start only through a 6-speed close ratio gear set. Lubrication of the gears and outer crankshaft bearings was though a trochoid oil pump driven by a separate crankshaft. The chassis was formed by box section mild steel tubing and a full fairing cloaked the motorcycle. Braking was afforded by state-of-the-art twin 267mm ventilated steel disc with a 2-piston caliper up front while a similar 245mm single disc did the duties in the back. Yamaha's Monoshock handled the suspension in the rear of the motorcycle. Weighing in at 452 lbs., the Yamaha had a top speed of 148 mph.

Only produced a few short years from 1984 through 1986, the Yamaha RD500LC is rare and highly collectible. Finished in white and red, this is an enticing motorcycle. Presentation is excellent and certain pieces are safety wired as required for track days. There are no marks that this motorcycle was ever down, or used extensively, with only 1200 miles on the odometer. This limited production Yamaha RD500LC is a race developed motorcycle, but one not reserved just for champions or corporate executives. This is a unique motorcycle that you can own and enjoy.