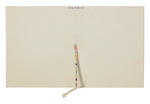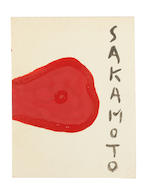 Gutai (1954-1972)
A Collection of 32 unique works by Kazuo Shiraga, Shozo Shimamoto, Jiro Yoshihara, Sadamasa Motonaga, Yuko Nasaka, Sadaharu Horio, Norio Imai, Kumiko Imanaka, Joji Kikunami, Shigeki Kitani, Tsuyoshi Maekawa, Takesada Matsutani, Yoshihara Michio, Shuji Mukai, Saburo Murakami, Michimasa Naohara, Senkichiro Nasaka, Kimiko Ohara, Minoru Onoda, Masaya Sakamoto, Yasuo Sumi, Satoshi Tai, Ryuji Tanaka, Teruyuki Tsubouchi, Chiyu Uemae, Tsuruko Yamazaki, Toshio Yoshida and Michio Yoshihara
1966-1969

variously signed and dated
mixed media, in 32 parts

Dimensions variable: ranging from 5 by 5.2 cm. to 15 by 7.8 cm.

These works were executed between 1966 and 1969.

Footnotes