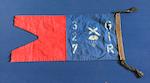 WWII 101st Airborne 327th Glider Infantry pendant.
Battle of the Bulge: Theater made pennant for the 101st Airborne, 327th Glider Division, in action D-Day June 1944, Normandy and the Battle of the Bulge, December, 1944.

Red and blue linen, the blue panels each stenciled in white, one side with 101/glider parachute/AB the reverse stenciled 327/glider parachute/GlR (Glider Infantry regiment). The red pennant ends blown out, the luff made of brown cloth with tying cords. 200 x 470 mm.
Provenance: The Mountfitchet Castle Museum, Essex.

A rare pennant, an historic relic of the 101st Airborne's operations in WWII. The 327th Infantry Regiment was a prime part of the 101st Airborne. The majority of the 327th landed on Omaha Beach in June 1944, fighting through Normandy. They were dropped into Bastogne in December 1944, and held the perimeter against superior German forces.