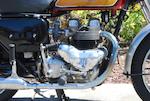 From the Mike Seal Estate
1958 AJS Model 31CS Twin
Frame no. A62849
Engine no. 58 31CS 06666
Relatively unknown compared to twins from Triumph and BSA, the Matchless/AJS 650s followed a slightly different engineering path in their growth from 500 to 650cc. As always, it was in response to American riders' demands for more power and more speed that led to a bump in displacement, first to 600cc via a bore job, then to 650cc with a longer stroke. Part of the design from the beginning was a three-main-bearing crankshaft, further differentiating parent company AMC's vertical twins from their contemporaries. The 650 debuted in 1958 and would remain in production until 1966.

While AMC's postwar AJS and Matchless singles seemed deliberately identical, give or take the odd magneto mounting, the twins differed visibly in several areas from each other. For instance the Matchless had a different fuel tank profile to that of its AJS cousin, silencers likewise, and many tinware items were individually shaped or contoured.

An interesting aspect of the late Mike Seal's collection is the condition variety seen in the bikes, especially in regards to the Matchless and AJS models, twins and singles. There are fresh, meticulously detailed restorations, older restorations with a few miles showing, unrestored original-finish machines or, as with this Model 31CS, historically authentic bikes showing mild period modifications. With 19,000 miles on its odometer and wearing an original California 'black' license plate, the AJS is in wonderfully as-ridden trim, including chrome-plated fork parts and a custom painted and pinstriped gas tank.
Saleroom notices
Please note that the title for this bike is in transit.