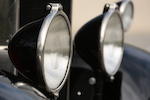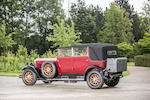 1929 Mercedes-Benz 460 Nürburg Cabriolet
Coachwork by Alexis Kellner, Berlin
Chassis no. M50874
Engine no. M50874
At the end of the First World War both Daimler and Benz went back to producing cars. Trading conditions in the early 1920s though, were extremely difficult: the War had left Germany's economy in ruins and there was rampant inflation. Of the 86 German car factories operating in 1924, only 19 were in existence three years later. If the two great rivals were to survive, it would have to be in partnership. On 1st July 1926 Daimler and Benz completed their merger, the two companies having paved the way with a technical co-operation agreement in 1924. By this time, Paul Daimler, founder Gottlieb's son and the company's Chief Engineer, had moved to Horch, his place being taken by Professor Ferdinand Porsche.
Porsche would stay with Daimler-Benz until 1928, one of the final designs produced under his stewardship being the Nürburg, which at the time of its introduction was the company's grandest model. Embodying tradition and innovation in equal measure, the Nürburg featured a conventional U-section chassis, rigid axles and semi-elliptic springing, but was powered by a modern straight-eight engine that combined the engine block and upper crankcase in a single casting. Displacing 4,592cc in the Nürburg's first (Type 460) incarnation, this sidevalve unit would be enlarged to 4,918cc for the Type 500 in 1931. Porsche's successor, Hans Nibel later produced a kurz (short) version of the Nürburg with 11' 3" wheelbase, but most customers preferred the long (12' 4") wheelbase model which was most often seen with formal coachwork. The antiquity of its chassis would prove no handicap in the Nürburg's intended market, which appreciated its discreet presence, flawless build quality and effortless performance, and was still buying this imposing rival to the British Daimler in 1939.

The superb 460 Nürburg offered here carries cabriolet coachwork by Carrosserie Alexis Kellner of Berlin (not to be confused with French coachbuilder of the same name). Founded in 1910, the company was noted for producing bodies of exceptional elegance, style and luxury. Shaken by the economic crisis of the early 1930s, Kellner was acquired by another German coachbuilder, Drausz of Heilbronn, which thereby acquired Kellner's valuable patents. '50874' is a relatively rare example of soft-top coachwork on the Nürburg chassis, which tended to attract more formal, enclosed designs.

We are advised that the immediately preceding owner, a Mr Tanke from Bad Bentheim in Lower Saxony, acquired the car from a Mr Norbert Kohn of Hannover, who had purchased it from the Drausz/Kellner company. The Nürburg was restored in the Netherlands for Mr Tanke by Satink of Hengelo between 2003 and 2007 and remains in excellent condition today. No bills are available but there is a photographic record of the restoration on file together with 'as found' pictures and assorted correspondence, including a certifying letter from Mercedes-Benz. Offered with Netherlands registration papers, this is a unique example of a magnificent and imposing model from one of the most respected marques in the history of the motor car, bodied by one of Germany's finest coachbuilders.

1929 Mercedes-Benz 460 Nürburg Cabriolet
Karosserie Alexis Kellner, Berlin
Fahrgestell-Nr. M50874
Motor-Nr. M50874

Nach dem Ende des Ersten Weltkriegs setzten sowohl Daimler als auch Benz ihre Automobilproduktion fort. Die Handelsbedingungen Anfang der 20er Jahre waren jedoch deutlich erschwert, hatte doch der Krieg die deutsche Ökonomie ruiniert und die Inflation grassierte. Von 86 deutschen Autoherstellern im Jahre 1924 hatten drei Jahre später lediglich 19 überlebt. Sollten die beiden groβen Rivalen überleben, hatten sie nur zusammen eine Chance. Eine Vereinbarung zur technischen Kooperation aus dem Jahre 1924 ebnete den Weg zum Firmenzusammenschluβ von Daimler und Benz, der am 1. Juli 1926 vollzogen wurde. Zu dieser Zeit hatte Paul Daimler, der Sohn des Gründers Gottlieb Daimler und Chefentwickler, bereits zu Horch gewechselt. Seinen Platz nahm Professor Ferdinand Porsche ein. Porsche sollte bis zum Jahre 1928 bei Daimler-Benz bleiben. Eines der letzten unter seiner Führung entwickelten Modelle war der Nürburg, das damalige Topmodell. Er vereinte auf beste Weise Tradition und Innovation mit seinem konventionellen Rahmen in U-Form, Starrachsen und halb-elliptischen Federn und dem modernen Reihenachtzylinder, dessen Motorblock und oberes Kurbelgehäuse aus einem Guβ waren. Zuerst mit einem Hubraum von 4,592 ccm im Nürburg 460 vorgestellt, sollte dieser seitengesteuerte Motor auf einen Hubraum von 4,918 ccm im Typ 500 des Jahres 1931 vergröβert werden. Porsches Nachfolger Hans Nibel bot später eine Version des Nürburgs mit einem kürzeren Radstand an, die meisten Kunden bevorzugten allerdings den langen Radstand, der den Repräsentationskarossen mehr Platz bot. Das veraltete Chassis hielt die Zielgruppe des Nürburgs nicht vom Kauf ab und wuβte dessen diskrete Ausstrahlungskraft, tadellose Qualität und mühelose Kraftentfaltung zu schätzen und kaufte den Konkurrenten des Englischen Daimler immer noch bis zum Jahre 1939.

Der hier angebotene 460 Nürburg wurde mit einer offenen Karosserie des Berliner Karossiers Alexis Kellner versehen (nicht zu verwechseln mit dem gleichnamigen französischen Karosseriebauer). Bereits im Jahr 1910 gegründet, stand diese Firma für die Herstellung von beispiellos eleganten und luxuriösen Karosserien. Von der Weltwirtschaftskrise Anfang der 30er Jahre in Mitleidenschaft geraten, wurde Kellner vom Konkurrenten Drausz aus Heilbronn mitsamt seiner wertvollen Patente aufgekauft. Chassis 50874 ist eine recht seltene offene Variante auf dem Nürburg-Fahrgestell, wurden doch die meisten Wagen mit eher geschlossenen Repräsentationskarosserien versehen.

Der direkte Vorbesitzer, ein Herr Tanke aus Bad Bentheim in Niedersachsen, erwarb den Wagen von einem Herrn Norbert Kohn aus Hannover, der ihn wiederum bei Drausz/Kellner gekauft hatte. Der Nürburg wurde in den Niederlanden von Satink in Hengelo für Herrn Tanke in den Jahren 2003 bis 2007 restauriert und steht in exzellentem Zustand da. Es liegen zwar keine Rechnungen über die Restaurierung, jedoch eine fotografische Dokumentation der Restaurierung, Fotos des Wagen vor den Arbeiten sowie ausgewählte Korrespondenz mitsamt einer Zertifizierung des Wagens von Mercedes-Benz, vor. Dieses einzigartige Exemplar eines prachtvollen und imponierenden Modells eines der angesehensten Autoherstellers mit einer ebenso seltenen wie eleganten Karosserie wird mit niederländischen Zulassungspapieren angeboten.