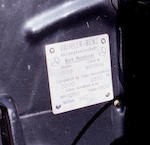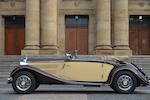 1938 Mercedes-Benz 320 Cabriolet A
Chassis no. 407846
Mercedes-Benz's luxurious 320 series was introduced in 1936 as a replacement for the 290 series. Built initially in two wheelbase lengths, the 320 was down to just one from 1938 onwards, though a wide variety of open and closed body styles remained available, including a state-of-the-art streamlined saloon. The 320's six-cylinder sidevalve engine started out at 3,208cc before being bored out to 3,405cc towards the end of production to compensate for inferior quality fuel. Maximum power increased to 78bhp and overall performance greatly improved, while coil-sprung independent suspension all round ensured that the ride afforded the ultimate in comfort at all times. The factory's sales literature was coy about top speeds, though models whose standard four-speed manual gearbox was complemented by the optional ZF overdrive 'autobahn' gear were reckoned capable of approximately 130km/h (80mph). Hydraulic brakes were a very necessary refinement in a car that in saloon form weighed almost 2,000kgs.

Most 320s were completed with rather formal coachwork though there was also a tourer, a roadster and various cabriolets. Of the latter, the two-door Cabriolet B is best known, but this 3.2-litre example is fitted with the more-unusual two-door Cabriolet A body with two front seats, a third seat set at 90 degrees across the rear, and twin spare wheels on the boot. Stylish and imposing, the 320 Cabriolets had few peers as exemplars of open-top motoring in the grand manner, affording their fortunate owners 500K style but without the latter's considerable purchase and running costs.
This original 320 Cabriolet was confiscated during WW2, presumably for military purposes, and thereafter remained in the DDR (East Germany). The first owner is not known. In 1985 the East German government sold the car to Belgium in order to obtain foreign currency, by which time it was in need of restoration.

The car's next recorded owner is a Herr Spitznagel who, it is believed, fully restored it between 1986 and 1991 in co-operation with Mercedes-Benz specialist Rheinbrück-Garage Heinz Maurer GmbH. There is a large file of paperwork concerning the restoration including correspondence with Mercedes-Benz Classic Centre in Fellbach and a photographic record of the work. An accompanying 'Classic Data' appraisal dated June 2010 states that everything had been dismantled and rebuilt using new parts where necessary, with special attention paid to the timber body frame. Panel fit and gaps were excellent, and the car had been repainted in its original colour scheme with new upholstery and interior trim panels to original pattern. The engine too had been completely rebuilt and everything was found to be in perfect working order. Only some 6,000 kilometres have been covered since the restoration and the car is described as in generally very good condition, as one would expect.

Also on file is a six-page invoice from restoration specialist Kurt Reck Karosserie-Fachbetrieb of Günzkofen, Germany dated May 2011 for a full service, brake system overhaul, carburettor rebuild, replacement of water pump and wheel bearings, adjustment and re-fit of rear shock absorbers, replacement of engine and gearbox mounts, etc at a cost of €10,947.

Acquired in 2010 by the current owner, who has used it for Mercedes-Benz Club events, this genuine 320 Cabriolet is offered with German registration papers and TüV valid until May 2016. A wonderful opportunity to acquire a fully restored example of this most desirable pre-war Mercedes-Benz soft-top.

1938 Mercedes-Benz 320 Cabriolet A
Fahrgestell-Nr. 407846

Die luxuriöse 320er Serie aus dem Hause Mercedes-Benz wurde 1936 als Nachfolger für die 290er Modelle vorgestellt. Ursprünglich mit zwei unterschiedlichen Radständen angeboten, hatten alle Modelle ab dem Jahr 1938 einen einheitlichen Radstand. Es gab allerdings eine Fülle von verschiedenen Karosserien, sowohl offen als auch geschlossen, und eine stromlinienförmige Limousine. Der seitengesteuerte Reihensechszylinder wurde zunächst mit einem Hubraum von 3208 ccm angeboten, der allerdings zum Ende der Bauzeit auf 3,405 ccm vergröβert wurde, um den Leistungsverlust durch schlechteres Benzin zu kompensieren. Die Leistung kletterte auf 78 PS bei deutlich gesteigerten Fahrleistungen. Die schraubgefederte Einzelradaufhängung sorgte für komfortables Reisen. Die Werksbroschüren äuβerten sich nicht zur Höchstgeschwindigkeit, es wird aber angenommen, dass Fahrzeuge, die zusätzlich zum serienmäβigen Viergang-Schaltgetriebe mit dem optionalen ZF-Autobahngang ausgestattet waren, 130 km/h erreichen konnten. Die eingebauten hydraulischen Bremsen waren nötig bei einem Wagen, der als geschlossene Limousine fast 2,000 kg wog.

Die meisten 320er wurden mit einer eher traditionellen Karosserie ausgeliefert, es waren allerdings auch ein offener Tourer, ein Roadster und diverse Cabriolets im Angebot. Von den letzteren ist das zweitürige Cabriolet B wohl die bekannteste Variante, allerdings wurde dieser 3.2 Liter mit der selteneren Cabriolet A Karosserie mit den zwei Vordersitzen, den quer im Fond eingebauten dritten Sitz sowie den doppelten Reserverädern auf dem Kofferraum gebaut. Stilvoll und respekteinflöβend hatten diese Wagen nur wenige Konkurrenten und boten dem glücklichen Eigentümer ein Automobil, das dem 500 K ähnelte, aber deutlich günstiger in Anschaffung und Unterhalt war. Dieses sehr originale 320 Cabriolet wurde im Zweiten Weltkrieg konfisziert, vermutlich aus militärischen Gründen, und verblieb danach in der DDR. Der Erstbesitzer ist nicht bekannt. 1985 verkaufte die ostdeutsche Regierung den Wagen an einen Kunden in Belgien gegen Devisen – zu diesem Zeitpunkt war er restaurierungsbedürftig.

Der folgende bekannte Besitzer war ein Herr Spitznagel, der wohl den Wagen in den Jahren 1986 bis 1991 mit Hilfe des Mercedes-Benz Spezialisten Rheinbrück-Garage Heinz Maurer GmbH umfassend restaurierte. Im beiliegenden groβen Ordner befindet sich sowohl Korrespondenz mit dem Mercedes-Benz Classic Center in Fellbach als auch eine fotografische Dokumentation der Arbeiten. Ein ebenso mitgeliefertes Classic-Data Gutachten aus dem Juni 2010 stellt fest, dass der Wagen auseinander genommen und, wenn notwendig, mit Neuteilen wieder aufgebaut wurde. Ebenso erfuhr der Holzrahmen besondere Widmung. Die Spaltmaβe waren exzellent und der Wagen wurde in der Originalfarbe neu lackiert, während die Innenausstattung mit neuem Material im Originalmuster bezogen wurde. Auch der Motor wurde komplett überholt und alles funktioniert, wie es sollte. Seit der Restaurierung wurde der Wagen nur ca. 6,000 km gefahren und wird als in durchweg sehr gutem Zustand beschrieben.

Der Ordner enthält auβerdem eine sechsseitige Rechnung über €10,947 vom Karosserie-Fachbetrieb Kurt Reck in Günzkofen für eine komplette Durchsicht, eine Instandsetzung der Bremsen, Vergaserwiederaufbau, Einbau einer neuen Wasserpumpe sowie neuen Radlagern, Einstellung und Wiedereinbau der hinteren Stoβdämpfer und den Austausch der Motor- und Getriebehalterungen.

Der derzeitige Besitzer erwarb den Wagen im Jahre 2010 und setzte ihn auf Mercedes-Benz Club Veranstaltungen ein. Dieses authentische 320 Cabriolet A wird mit Deutschen Zulassungspapieren sowie bis Mai 2016 gültigem TÜV angeboten. Eine ernstzunehmende Gelegenheit, ein umfassend restauriertes Exemplar dieses begehrten Vorkriegs-Mercedes-Benz Cabriolets zu erwerben.