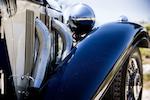 Two owners from new
1936 Mercedes-Benz 540 K Cabriolet A
Chassis no. 130946
Engine no. 130946
Together with its predecessor the 500 K, the magnificent Mercedes-Benz 540 K was arguably the most noteworthy production model offered by the Stuttgart firm during the 1930s. A development of the 500 K, whose independently suspended chassis it shared, the 540 K was powered by a 5.4-litre supercharged straight-eight engine. The 540 K was one of the first models developed under Mercedes' new chief engineer, ex-racing driver Max Sailer, successor to Hans Nibel, who had died in November 1934 aged only 54. It featured the company's famous Roots-type supercharger system in which pressing the accelerator pedal to the end of its travel would simultaneously engage the compressor and close off the alternative atmospheric intake to the carburettor. This system had been thoroughly proven on the preceding series of Dr Porsche-conceived S-Type cars, and in effect the 540K was the last supercharged production Mercedes until relatively recent times.

Launched at the Paris Salon in October 1936, the 540 K had an engine that developed 115bhp un-supercharged or 180bhp with the compressor engaged. The gearbox was a four-speeder, but with a direct top gear rather than the overdrive ratio used on the earlier 500K. With the supercharger engaged, the 540 K's blown straight-eight gave it a top speed approaching 110mph (177km/h) matched by servo-assisted hydraulic braking. Its performance potential was such that Mercedes-Benz in the UK retained racing driver Goffredo 'Freddy' Zehender as technical adviser and demonstration driver, since the super¬charged Mercedes was one of the few genuine 100mph road cars available in the 1930s.

Late in 1938, a revised 540 K made its appearance, with oval-section chassis tubes instead of channel frame members, while the adoption of sodium-cooled valves followed the company's highly success¬ful racing practice.

Although the 500 K/540 K chassis attracted the attention of many of the better quality bespoke coachbuilders of the day, the company's own Sindelfingen coachwork left little room for improvement. The cabriolet came in a variety of styles. This example has the desirable Cabriolet A option with two-door, left-hand drive coachwork and is outstandingly handsome. The work of the gifted Hermann Ahrens, design chief at Mercedes-Benz's in-house Sindelfingen coachworks, the Cabriolet A offered two-seater accommodation allied to breathtaking performance.

The manufacturing record of the 540 K revealed its exclusive nature: 97 being produced in 1936, 145 in 1937, 95 in 1938 and 69 in 1939 before the war ended series production (though three more were built up to July 1942). In recent years, the rarity, style and performance of these big supercharged Mercedes have made them one of the most sought-after of all classic cars on the few occasions they have come on the open market.

This ultra-rare 540 K Cabriolet A, chassis number '130946', has been confirmed by Mercedes-Benz to be one of a mere ten cars that left the factory built to its particular 'interim' specification: equipped with the more powerful 5.4-litre engine but carrying the 500 K-style body with two rear-mounted spare wheels (see fax from Daimler Chrysler AG on file). This sporting body style is similar to that of the exclusive 540 K Special Roadster and thus is one of the most sought after of all factory coachwork.

'130946' was ordered on 3rd June 1936 (internal order number '226106') and its bodywork completed at Sindelfingen's factory on 13th July that same year. The car was collected by its first owner on 12th October 1936 from the Mercedes-Benz showroom in Paris. Proprietor of the well-known Parisian night-club Bar Americain 'La Roulotte', he is depicted in an archive photograph posing with his Mercedes-Benz outside the premises, which hosted artists of world renown including Edith Piaf and Django Reinhardt. The car remained in his possession for over 70 years and only passed to the current (second) owner in 2007; it is understood that it has never left French soil since being delivered new to Paris. It retains all of its original major components: chassis, engine and bodywork.

In 1993 a meticulous restoration to the highest standards was carried out at the original owner's request by renowned restorer Dominique Tessier of Chambray-Lès-Tours, France. The bodywork was removed and restored where necessary; the convertible top and interior upholstery renewed; and the instruments rebuilt. All chromed parts were re-plated and no cosmetic details left untouched. The restoration's mechanical aspects received equally thorough attention, the engine, gearbox, axles, brakes, suspension and starter motor all being fully rebuilt. After the restoration's completion the Mercedes was driven by Dominique Tessier regularly over relatively short distances, accompanied on occasions by the elderly owner.

The car has seen relatively little use since its acquisition by current owner in 2007 and is still in excellent condition. Works carried out include installing electric power assisted steering in 2010 for €5,945 (an easily reversible upgrade) and services in December 2012 and again in May 2014 (invoices on file).

The supercharged models built by Mercedes-Benz were among the ultimate cars that money could buy in the late 1930s. Their beautiful proportions exude both power and grace. This example is undoubtedly among the finest of restored 540 Ks that Bonhams has had the pleasure of offering, with only two French owners from new and having resided with its first for 70 years. Appreciation of such fine machinery can only be done in person and we thoroughly recommend that prospective buyers take the opportunity to view this car. '130946' comes with archive photographs, an original service invoice dated 25th August 1946, and a full photographic record of the restoration together with the relevant invoices. This is truly a once-in-a-lifetime opportunity, not to be missed.

Zwei Vorbesitzer
1936 Mercedes-Benz 540 K Cabriolet A
Fahrgestell-Nr. 130946
Motor-Nr. 130946

Zusammen mit seinem Vorgänger, dem Typ 500 K, ist der großartige Mercedes-Benz 540 K das begehrenswerteste Fahrzeugmodell des Stuttgarters Herstellers aus den 1930er Jahren. Der 500 K teilt sich mit seinem Nachfolger, dem Typ 540 K, das zu dieser Zeit hervorragende Fahrgestell mit an Doppel-Querlenkern geführten Vorderräder und der mit einer Ausgleichsfeder versehenen Pendelachse für die Hinterräder. Für den Typ 540 K steht der auf 5,4 Liter Hubraum vergrößerte Reihen 8-Zylinder Kompressor-Motor zur Verfügung. Dieses Modell war eins der ersten Modelle unter dem neuen Chefentwickler und Ex- Rennfahrer Max Sailer. Er wurde Nachfolger von Hans Nibel, der im Alter von 54 Jahren im November 1934 verstorben war.
Durch sein markantes, Aufheulen" beim Betätigen des Kompressors, welcher zugeschaltet wird, nachdem man das Gaspedal gänzlich durchgetreten hat, erlangte der 540 K seine markenspezifische Berühmtheit. Die zusätzliche Leistungssteigerung durch den Roots-Kompressor, der bereits sehr erfolgreich im Mercedes-Benz Typ-S zum Einsatz kam, eine Entwicklung von Dr. Porsche, verhalf dem 540 K zu seinem besonderen Status. Er war das letzte durch einen Kompressor unterstützte Fahrzeug von Mercedes-Benz bis in die Neuzeit hinein.

Vorgestellt wurde der 540 K auf dem Pariser Autosalon, Oktober 1936. Sein Motor liefert 115 kompressorlose PS, mit Kompressor 180 PS. Ein manuelles 4-Gang Schaltgetriebe, dessen 4. Getriebegang einem Direktgang gleicht und die Overdrive-Variante des 500 K übertrifft, sorgt für den nötigen Vorwärtsdrang. Der mit dem Kompressor ausgestattete Reihen 8-Zylinder-Motor ermöglicht das Fahrzeug auf eine Höchstgeschwindigkeit von nahezu 180 km/h zu beschleunigen. Die Bremsen, mit hydraulischer Unterstützung, bringen das Fahrzeug im Notfall zum Stillstand. Auf dem Automobilmarkt in Großbritannien zählte dieses Fahrzeug als ein echtes 100 mph (160 km/h) Modell. Als technischer Berater und Demo-Fahrer führte der Rennfahrer Goffredo ,,Freddy" Zehender, der auf Wunsch von Mercedes-Benz UK engagiert war, das Fahrzeug bereitwillig der Kundschaft vor.

In den späten 1938er Jahren wurde das Modell 540 K überarbeitet und erhielt einen Fahrgestell-Rahmen mit ovalem Stahl-Profil anstatt des vorhergehenden U-Profilrahmens. Die bisherigen Ventile wurden durch Natrium gekühlte Ventile ersetzt, welche sich im Renneinsatz bestens bewährt hatten.

Wie zu dieser Zeit üblich, ermöglichten die weltbesten Karosseriebauer eine große Vielfalt besonderer Karosserieaufbauten auf das Chassis des Typ 500 K /540 K. Die werkseigenen Karosserien aus dem Sindelfingener Karosseriewerk hatten bereits einen hohen Standard. Dieses 2-türige, 2-sitzige und links gesteuerte Sindelfinger Werks-Cabriolet A besticht durch sein außergewöhnliches Erscheinungsbild. Hierbei kommt insbesondere das Karosseriedesign des begnadeten Hermann Ahrens, Chef-Designer im Karosseriewerk Sindelfingen, zum Ausdruck.

Werkseigene Produktionszahlen belegen den exklusiven Status dieses Fahrzeugs: 97 Exemplare - 1936, 145 Exemplare – 1937, 69 im Jahr 1938 und 1939, bis zum Beginn des 2. Weltkriegs – zu diesem Zeitpunkt wird die Produktion eingestellt, nochmals 69 Exemplare. Entsprechend der Unterlagen von Mercedes-Benz wurden drei weitere Fahrzeuge nach Juli 1942 gefertigt.

In den vergangenen Jahren ist immer wieder der Seltenheitswert dieses Mercedes-Benz Kompressor Modells dadurch bestätigt worden, dass er sehr, sehr selten am Markt überhaupt angeboten wurde.

Dieses äußerst seltene 540 K Cabriolet A, Fahrgestell nummer "130946" ist von Mercedes-Benz als eines von zehn Fahrzeugen bestätigt, das in dieser speziellen Karosserieversion im 500 K Stil, aber mit dem leistungsstärkeren 5,4 Liter-Motor ausgeliefert wurde. Ebenso die zwei zusätzlich am Heck angebrachten Reserveräder (siehe Fax der Daimler Chrysler AG, im dazugehörigen Ordner). Sein sportliches Karosseriedesign ähnelt dem des exklusiven 540 K Spezial Roadster und gehört damit eindeutig zu den seltenen Werkskarosserien.

Bestellt wurde das Chassis mit der Nummer "130946" am 03. Juni 1936 (interne Bestell-Nummer "226106") welches mit der Karosserie in Sindelfingen am 13. Juli 1936 bereits fertig gestellt wurde. Das Fahrzeug wurde am12. Oktober 1936 im Ausstellungsraum von Mercedes-Benz in Paris dem Erstbesitzer übergeben. Er war Betreiber und Eigentümer des berühmten Nachtclubs und der Bar ,,Americain La Roulette". Auf einem zeitgenössischen Schwarz-Weiß Foto posiert er neben seinem Fahrzeug vor dem Nachtclub. In diesem Etablissement traten weltbekannte Künstler wie Edith Piaf und Django Reinhardt auf. Das Fahrzeug blieb in über 70 Jahren (2007) immer einem Eigentümer zugeschrieben. Dies ist so zu verstehen, dass der Mercedes-Benz 540 K Cabriolet A seit der Erstauslieferung in Paris, das Land Frankreich nicht verlassen hat.

Im Jahr 1993 wurde auf Wunsch des Eigners eine äußerst penible Restaurierung, unter Berücksichtigung höchster Standards, bei dem bekannten und anerkannten Restaurator Dominique Tessier in Chambray-Les-Tours (Frankreich) vorgenommen. Die Karosserie wurde vom Chassis abgehoben und nur mit den notwendigsten Ausbesserungen versehen. Das Cabriolet-Verdeck und der Innenraum-Polsterstoff wurden erneuert, sowie alle Anzeigeinstrumente überarbeitet. Alle Chromteile wurden neu verchromt und dabei blieb kein Teil unberührt. Im gleichen Maße erhielten alle Mechanikteile dieselbe Aufmerksamkeit: Motor, Getriebe, Achs- und Aufhängungsteile, Bremsen und der Anlasser.

Nach der abgeschlossenen Restaurierung fuhr Dominique Tessier den Mercedes-Benz kürzere Strecken, in Begleitung des älteren Besitzers, regelmäßig zu verschiedenen Anlässen. Das Fahrzeug wurde vom derzeitigen Besitzer seit 2007 nur geringfügig genutzt und befindet sich in einem exzellenten Zustand. Für 5.945 € wurde im Jahr 2010 eine elektrische Lenkhilfe eingebaut, welche in einfachster Weise wieder zurückgerüstet werden kann. Service-Belege von Dezember 2012 und Mai 2014 liegen vor.

Die Mercedes-Benz Kompressor Modelle waren das ultimativ Beste das man sich für Geld in den 1930er Jahren kaufen konnte. Deren wunderschöne Proportionen vermitteln Leistung und eine außergewöhnliche Anmutung. Bonhams hat das Vergnügen, dieses Automobil als zweifelsfrei Besten restaurierten Mercedes-Benz 540 K anzubieten. Mit nur zwei französischen Vorbesitzern in den letzten 70 Jahren.

Wir empfehlen Interessenten eine Besichtigung, um sich vom außergewöhnlichen Zustand des Fahrzeugs ein eigenes Bild machen zu können. Chassis-Nummer "130946" wird mit einer Vielzahl von Fotografien, einer Original Service-Rechnung vom 25. August 1946, sowie einer Foto-CD mit Fotos der Restaurierung und vielen wichtigen Rechnungen angeboten.

Das ist die Chance Ihres Lebens, eine einmalige Gelegenheit, die Sie sich nicht entgehen lassen sollten.