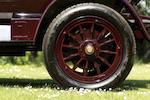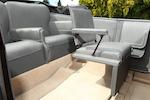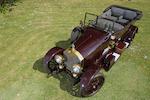 Formerly the property of Rudolf Lilljeqvist
1915/1919 Mercedes 22/50hp Open Tourer
Chassis no. 17-759
Engine no. 25-546
This historically important and fully documented Mercedes was ordered new by Swedish civil engineer and industrialist Rudolf Lilljeqvist, builder of Sweden's first hydroelectric power station and business partner of Alfred Nobel. One of the latter's two executors, Lilljeqvist was instrumental in setting up the Nobel Prize in accordance with Nobel's will, in the face of stern opposition from his heirs. Rudolf Lilljeqvist was immensely successful and one of the richest men in Sweden. In 1908 he purchased the huge Baldersnäs estate in Laxsjön, erecting new buildings and amassing an enviable art collection. The Swedish monarch once remarked: 'If I were not King of Sweden, I would like to be the owner of Baldersnäs.'

Commissioned from Daimler by wealthy Leipzig-born merchant, Emil Jellinek, the Mercedes took its name from Jellinek's eldest daughter. An advanced design by Wilhelm Maybach, that first Mercedes of 1901 marked the watershed between the era of the 'horseless carriage' and that of the modern motor car. Indeed, so successful was it that Daimler adopted the Mercedes name for its passenger cars in 1902. An entire range of cars of varying capacities and power outputs followed, all based on that revolutionary original. Shaft drive had been introduced on the 2.6-litre 15/20hp model of 1905 and this advanced feature would soon be adopted across the Mercedes range.

The car offered here retains the original's defining features but has shaft final drive (the first Mercedes was chain driven). Shaft drive had been introduced on the 2.6-litre 15/20hp model of 1905 and this advanced feature would soon be adopted across the Mercedes range, though the larger models continued with chain drive for a few more years. One of the last new models introduced before WWI, the 22/50hp was powered by a 5.7-litre four-cylinder sidevalve engine, which drove via a four-speed gearbox. It was one of the first Mercedes models to have a V-shaped radiator, a feature that would typify the Stuttgart-built cars for many years. The 22/50hp Mercedes was in production for a relatively short time and only four are known to exist, probably the best known being the limousine used by Kaiser Wilhelm II.

Placed in 1914 via the Stockholm Mercedes agent, Lilljeqvist's original order stipulated that the car should have an extra 10cm of ground clearance and a raised exhaust to enable it to negotiate the rough terrain of his hunting estate in Belgium. He also specified that the track should be widened from 142cm to 154cm so that he could avoid running in the deep ruts left by horse-drawn vehicles. Other specially requested features included electric lighting and an exhaust flap with locking device. However the Mercedes was not delivered to Lilljeqvist after completion, having been commandeered by the German Army for service in WWI as the staff car of General August von Mackensen. Mackenson was later promoted to Field Marshal and ended the war as Lieutenant Governor of Romania.

On 29th May 1918 a second order was despatched from Sweden with the note that delivery should be 'immediately after the war'. Prior to despatch the car was returned to 'as new' condition by Mercedes. Documentation on file shows that two payments were made in January/February 1919 with a final payment on 27th March. On 8th April 1919 the completely refurbished car was shipped to Stockholm for final assembly by the local Mercedes agent. Lilljeqvist had ordered Continental tyres (then spelled with a 'K') but as Mercedes was unable to supply them it was agreed that alternatives would be sourced locally ('regional procurement'). The car was registered in Sweden on 14th June 1919. The original registration document (Besiktningsinstrument) is on file.

Lilljeqvist must have been especially fond of his Mercedes, which was driven only by his chauffeur, never modernised or given to his children and when its use became less practical, was safely stored in a barn. In 1969 the current owner, a successful engineer with a passion for early historic vehicles, came across the Mercedes while visiting Baldersnäs and was able to negotiate its purchase from Rudolf Lilljeqvist's grandson. The convertible top had been erected after the car was parked and, having seized in position, had to be unbolted before the car could be removed from the barn.

For many years the vendor ran the Mercedes just as he had found it, in original and un-restored condition, before the deterioration of perishable components – leather, wood and fabrics – made restoration a necessity. The fact that the car was complete, with nothing missing or broken, made the task relatively easy though necessarily very expensive. In the course of the rebuild the red topcoat was removed, revealing the wartime military grey paintwork beneath and a pale base coat beneath that. Duplicating the special textured leather upholstery proved difficult but eventually a suitable material was sourced. The original seven-seater open tourer coachwork and all the mechanical components were retained, and we are advised that no modifications have been made and the car corresponds exactly to factory specification. All removed parts that were renewed – leather trim, fabric soft-top, etc – have been retained and are included in the sale. Even the original chauffeur's cap is present. Fully restored, the car is described by the vendor as in 'perfect' condition, and despite its great age (100 years old next year) has covered only some 50,000 kilometres from new. An historic Mercedes with a fascinating history and supporting files, this ultra-rare 22/50hp tourer is offered with sundry restoration invoices, a quantity of period photographs, and copies of its original documents including factory build sheets and Besiktningsinstrument.

Aus dem Vorbesitz von Rudolf Lilljeqvist
1915/1919 Mercedes 22/50hp Offener Tourenwagen
Fahrgestell-Nr. 17-759
Motor-Nr. 25-546

Als Neufahrzeug wurde dieser historisch bedeutende und durchgehend dokumentierte
Mercedes, vom schwedischen Industriellen und Ingenieur, Rudolf Lilljeqvist bestellt.

Dieser war der Konstrukteur des ersten Wasserkraftwerks in Schweden und ein
Geschäftspartner von Alfred Nobel. Als einer von zwei Testamentsvollstreckern des Letzterwähnten, war er massgeblich an der Schaffung des Nobelpreises, gemäss dem Testament des Verstorbenen beteiligt und setzte den Preis gegen starke Opposition aus den Reihen der Erben durch. Rudolf Lilljeqvist war äusserst erfolgreich und einer
der wohlhabendsten Männer Schwedens. 1908 erwarb er die Baldersnäs–Ländereien, über die der schwedische König sagte: "Wäre ich nicht König von Schweden, wäre ich gern der Eigentümer von Baldersnäs".

Chassisnummer 17 759 hat seine originalen Spezifikationen behalten, verfügt jedoch bereits über einen Kardanwellen-Antrieb. (Die ersten Modelle waren noch mit
Kettenantrieb ausgerüstet). 1905, beim 2,6 Liter 15/20HP erstmalig verbaut, wurde die Kardanwelle bald von nahezu allen Mercedes-Fahrzeugen übernommen. Lediglich die grösseren Modelle behielten noch für eine gewisse Zeit den Kettenantrieb. Als eine der letzten Neuerungen vor dem 1. Weltkrieg, erhielt der 22/50HP die 5.7 Liter
Vierzylinder-Maschine mit Viergang-Getriebe. Er hatte bereits den V-förmigen Kühler, welcher die in Stuttgart gebauten Automobile für viele Jahre charakterisierte.

Der Typ Mercedes 22/50 wurde nur während eines relativ kurzen Zeitraum
produziert; der bekannteste Wagen ist wahrscheinlich die von Kaiser Wilhelm II
genutzte Limousine.

Der von Lilljeqvist 1914, über den Stockholmer Mercedes-Agenten bestellte Wagen, wurde mit 10cm mehr Bodenfreiheit und einer erhöht montierten Auspuffanlage
geordert. Er wollte den Wagen u.a. in seinem belgischen Jagdrevier benutzen.
Ausserdem sollte die Spur von 142cm auf 154cm verbreitert werden, um die von den
Pferdefuhrwerken verursachten, tiefen Furchen vermeiden zu können. Weitere
Sonderwünsche waren elektrische Beleuchtung, sowie abschliessbare
Auspuffklappen. Der Mercedes wurde allerdings nicht ausgeliefert, sondern im 1.Weltkrieg dem General und späteren Feldmarschall August von Mackensen
zugeordnet, der später zum Gouverneur von von Rumänien ernannt wurde.
Am 29. Mai 1918 kam ein erneuter Auftrag aus Schweden, mit der Bitte um
Auslieferung "unmittelbar nach Kriegsende". Vor dem Export wurde der Mercedes in 'Neuzustand' versetzt und am 8. April 1919, an den Stockholmer Mercedes-Händler geliefert. Die originalen schwedischen Zulassungspapiere, vom 14. Juni 1919, liegen vor.

Rudolf Lilljeqvist muss von seinem Mercedes sehr angetan gewesen sein. Dieser wurde ausschliesslich von seinem Chauffeur gefahren, niemals 'modernisiert' oder an
seine Kinder weitergereicht. Als es unpraktischer wurde mit dem Wagen zu fahren, wurde dieser in einer Scheune sicher eingelagert. Erst 1969 wurde der gegenwärtige Besitzer, ein Ingenieur mit einer Passion für frühe, historische Fahrzeuge, auf den
Wagen aufmerksam, und es gelang ihm, den 22/50 von Lilljeqvists Enkel zu
erwerben.

Über viele Jahre fuhr der jetzige Besitzer den Mercedes so unrestauriert, wie er ihn 'gefunden' hatte. Als jedoch insbesondere Leder, Holz und Gewebe sich schliesslich in einem Zustand befanden, die eine Restauration des ansonsten kompletten Fahrzeugs erforderlich machten, war diese relativ leicht durchzuführen aber
erwartungsgemäss kostspielig.

Unter der roten Lackschicht kam das Militär-Grau zum Vorschein. Das speziell
strukturierte Leder war nicht einfach zu finden, jedoch schliesslich erhielt man passenden Ersatz. Der originale Aufbau des siebensitzigen, offenen Tourenwagens, sowie alle mechanischen Komponenten blieben erhalten. Bonhams wurde informiert, dass keinerlei Modifikationen vorgenommen wurden und dass der Mercedes dem Original-Auslieferungs-Zustand entspricht. Alle ersetzten Materialien, wie
Lederausstattung, Stoffverdeck, etc., werden zusammen mit dem Automobil
versteigert. Sogar die damalige Chauffeursmütze existiert noch. Vollrestauriert, wird der Mercedes von seinem Besitzer, als 'in perfektem Zustand' beschrieben und hat
trotz seiner nahezu 100 Jahre, erst etwa 50.000km zurückgelegt. Dieser äusserst seltene, historische 22/50HP, verfügt über eine belegte, faszinierende Geschichte.
Offeriert wird er mit vielen Restaurationsrechnungen, zeitgeschichtlichen Fotos,
sowie Kopien der Original-Dokumente, einschliesslich der Werksunterlagen sowie der schwedischer Zulassungspapiere, (Besiktningsinstrument).