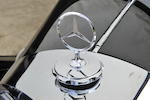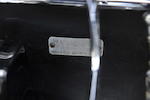 The ex-Rolf Meyer
1935 Mercedes-Benz 500 K Cabriolet
Coachwork by H J Mulliner
Chassis no. 123683
Engine no. 123683
Sensation of the 1934 Berlin Auto Show, Mercedes-Benz's legendary pre-war 500 K supercar cost a small fortune when new and today is one of the most coveted collectors' motor cars. The 1930s decade was a period of unprecedented fertility in motor car styling, of which the sublime 500 K represented the very pinnacle of excellence. Its timeless appeal endures to this day.

The 500 K, which boasted an ingenious swing-axle independent rear suspension layout, was created by Hans Nibel who, having started with Benz in the early years of the 20th Century, succeeded Marius Barbarou as chief engineer in 1904 and designed (and raced) the huge Benz cars of the period, culminating in the 200hp 'Blitzen' Benz. After the merger with Mercedes he replaced Ferdinand Porsche and created the most sophisticated chassis of their day for road and track, including the first of the 'Silver Arrow' racers. The supercharged road-going Mercedes of the 1930s are a wonderful tribute to his engineering skills.

Together with its successor the 540 K, the magnificent Mercedes-Benz 500 K was arguably the most noteworthy production model offered by the Stuttgart firm during the 1930s. The 500 K was powered by a 5,018cc supercharged straight-eight engine that featured the company's famous Roots-type supercharger system in which pressing the accelerator pedal to the end of its travel would simultaneously engage the compressor and close off the alternative atmospheric intake to the carburettor. This system had been thoroughly proven on the preceding series of Dr Porsche-conceived S-Type cars, and in effect the 500 K /540 K was the last supercharged production Mercedes until relatively recent times.

Beneath its seemingly endless bonnet, the 500 K's straight-eight engine developed 100bhp un-supercharged or 160bhp with the compressor engaged. The gearbox was a four-speeder with overdrive top ratio. With the supercharger engaged, the 500K had a top speed approaching 110mph (177km/h) matched by servo-assisted hydraulic braking. Its performance potential was such that Mercedes-Benz in the UK retained racing driver Goffredo 'Freddy' Zehender as technical adviser and demonstration driver, since the super¬charged Mercedes was one of the few genuine 100mph road cars available in the 1930s.

Although the 500 K/540 K chassis attracted the attention of the world's pre-eminent bespoke coachbuilders of the day, the company's own Sindelfingen coachwork left little room for improvement. The factory cabriolet came in a variety of styles: Cabriolet A, B, C and D with desirability generally in that order. After testing a 500K cabriolet in 1936, 'The Autocar' declared: 'This is a master car, for the very few. The sheer insolence of its great power affords an experience on its own.'

The manufacturing record of the 500 K reveals its exclusive nature: 105 being produced in 1934, 190 in 1935 and 59 in 1936 making a total of only 354 cars. In recent years, the rarity, style and performance of these big supercharged Mercedes have made them one of the most sought-after of all classic cars on the few occasions they have come on the open market.

The breathtaking 500 K Cabriolet offered here was delivered new to the UK in rolling chassis form and is one of the few bodied by a specialist coachbuilder, in this case the renowned H. J. Mulliner, as confirmed by Mercedes-Benz. Sadly, there is no record of the first owner. This two-seater car is supremely elegant and reminiscent of the highly desirable, and very valuable, Cabriolet A, with long bonnet, close-coupled cabin and twin spares mounted at the rear. It is finished in black with Burgundy coachline and Burgundy-piped black hood/hood bag. The beautifully appointed interior features tan trim and upholstery; a matching two-case luggage set positioned behind the front seats; an elegant instrument display with crushed mother-of-pearl panel set into the burr walnut dashboard; and matching walnut panels on the doors.

There are twin spot lamps to the windscreen pillars with inset rear-view mirrors; Bosch headlamps; a louvred bonnet; centre spot light; twin trumpet horns; removable rear spats (not shown in the photographs); and twin rear-mounted spares.
Restored to concours standard in the early 1990s while in the collection of the great Mercedes-Benz collector, Rolf Meyer, the car has aged a little since but is still in generally excellent condition. Driven for the photo shoot, the car started readily, with good water temperature and oil pressure readings. It has been an entrant in the Mercedes-Benz Kompressor Rally in Treffen (car number '38') and an award winner at the 1996 Monte-Carlo Concours d'Élégance.

The 500 K was acquired by the present owner's father in 2003 direct from the Rolf Meyer Collection auction in Paris, since when it has resided in a collection of other important Mercedes-Benz motor cars, being cared for by a resident engineer. The accompanying file contains the instruction book; old State of Oregon Certificate of Title; Pebble Beach concours paperwork; photographs of the restoration process; FIVA passport; and German registration papers. EU taxes have been paid.
Representative of the very best that money could buy in the mid-1930s, the car we offer is an excellent example of this classic German model offering Cabriolet A style at a fraction of the price.

Ex Rolf Meyer
1935 Mercedes-benz 500 K Cabriolet / Karosserie H. J. Mulliner
Fahrgestell-Nr. 123683
Body-Nr. 123683

Für eine Sensation sorgte Mercedes-Benz mit der Vorstellung des legendären Vorkriegs-Mercedes-Benz 500 K anlässlich der Berliner Autoausstellung 1934. Zur damaligen Zeit verschlang die Neuanschaffung dieses Superautos ein kleines Vermögen. Es zählt heute zu den begehrenswertesten Sammlerautos. Die Dekade der 1930er Jahre war eine beispiellose Bereicherung auf dem Gebiet des Automobil-Designs. In dieser Epoche zählt der Mercedes-Benz 500 K zur Spitze weltweit. Seine zeitlose Anziehungskraft hält bis heute an.

Der 500 K trumpfte mit einer modernen Hinterradaufhängung auf, bestehend aus der genialen Pendelachse mit Doppel-Schraubenfedern und einer Zusatz-Ausgleichsfeder. Entwickelt wurde diese von Hans Nibel, der bei Benz in den frühen Jahren des 20. Jahrhunderts anfing und 1904 die Nachfolge von Marius Barbarou als Chefingenieur antrat um die ganz großen Benz Automobile dieser Zeit zu entwerfen und damit auch Rennen fuhr. Der 200PS 'Blitzen' Benz kann als die Krönung seines Schaffens gesehen werden.

Nach dem Zusammenschluss mit Mercedes folgte er auf Ferdinand Porsche und schuf das anspruchsvollste Fahrgestell seiner Zeit für Straße und Rennstrecke, inklusive der ersten Silberpfeil Rennwagen. Die straßentauglichen Kompressor-Mercedes der 1930er Jahre sind ein wundervolles Tribut an seine technischen Fähigkeiten.

Zusammen mit seinem Nachfolger 540 K war der 500 K wohl das aufsehenerregendste Modell der Stuttgarter Firma in den 1930er Jahren. Der 500 K wird von einem 5.018 cm³ Kompressor-Achtzylinder-Reihenmotor angetrieben. Es handelt sich um das Triebwerk mit dem bekannten Rootskompressor, bei dem durch das Durchtreten des Gaspedals gleichzeitig der Kompressor eingeschaltet und die Luftzufuhr zum Vergaser unterbrochen wird.
Dieses System hatte sich sehr bewährt in den Vorgänger-Modellen Typ-S von Dr. Porsche und die Modelle 500 und 540 K waren die letzten Kompressor-Modelle bis in die Neuzeit.

Unter der scheinbar endlosen Motorhaube entwickelt der Achtzylinder-Reihenmotor 100PS ohne und 160PS mit eingeschaltetem Kompressor. Er besitzt ein Viergang-Getriebe mit Schnellgang.

Mit eingeschaltetem Kompressor erreicht der 500K eine Höchstgeschwindigkeit von bis zu 160km/h. Ein hydraulisches mit Saugluft untersütztes Bremssystem verzögert alle vier Räder. Sein Leistungspotential war so hoch, dass Mercedes-Benz in Großbritannien Rennfahrer Goffredo 'Freddy' Zehender als technischen Berater und Demonstrationsfahrer beibehielt, da der Kompressor Mercedes eines der wenigen echten 100mph Straßenfahrzeuge der 1930er Jahre war.

Obwohl der 500 K/540 K die Aufmerksamkeit der weltweit herausragendsten Karossiers seiner Zeit auf sich zog, ließ der firmeneigene Karosseriebau in Sindelfingen wenig Raum für Verbesserung. Das Fabrik-Cabriolet erschien in verschiedenen Ausführungen: Cabriolet A, B, C und D. Seine Begehrtheit ist generell in dieser Reihenfolge anzusehen. Nach dem Test eines 500K Cabriolets im Jahr 1936 deklarierte "The Autocar": "Dies ist ein meisterhaftes Auto, für eine kleine Anzahl von Interessenten. Seine riesige Kraftentfaltung ist alleine schon eine Erfahrung für sich."

Die Produktionszahlen des 500 K sprechen für seine Exklusivität: 105 Exemplare wurden im Jahr 1934 produziert, 190 in 1935 und 59 in 1936. Eine Gesamtzahl von 354 Fahrzeugen. In den letzten Jahren machten die Seltenheit, der Stil und die Leistung dieses großen Kompressor-Mercedes, bei den wenigen Anlässen bei denen er am Markt angeboten wurde, zu einem der begehrtesten Oldtimer.

Das hier angebotene, atemberaubende 500 K Cabriolet wurde als ,,Rolling Chassis" nach Großbritannien ausgeliefert und ist eines der Wenigen die von einem spezialisierten Karosseriebauer gefertigt wurden. In diesem Fall vom berühmten H.J. Mulliner. Dieses wurde von Mercedes-Benz auch bestätigt. Leider gibt es keine Aufzeichnungen über den Erstbesitzer. Dieses höchst elegante zweisitzige Fahrzeug erinnert an das höchst begehrenswerte und wertvolle Cabriolet A, mit langer Motorhaube, einem kompaktem Fahrgastraum und zwei Ersatzrädern am Heck.
Eine zweifarbige Lackierung, Schwarz und Burgunderrot, und das burgunderrote Verdeck mit gleichfarbiger Verdeck-Persenning unterstreichen sein äußeres Erscheinungsbild. Dazu passend der wunderschön verarbeitete Innenraum mit seiner braunen Innenraumverkleidung und Polsterung, ein dazu passendes zweiteiliges Kofferset hinter den Vordersitzen, elegante Instrumentenanzeiger in einem mit Perlmutt besetztem Armaturenträger, welcher in das Walnussholz- Armaturenbrett eingepasst ist, sowie die passenden Walnussholzverkleidungen an den Türen. Zwei Scheinwerfer mit eingebautem Rückspiegel sind am Windschutzscheibenrahmen angebracht, Bosch Hauptscheinwerfer, zentrales Scheinwerferlicht, eine mit Luftschlitzen versehene Motorhaube, Zwillingshupen, abnehmbare hintere Radhausabdeckungen ( auf den Fotos nicht gezeigt) und zwei hinten angebrachte Ersatzräder.

In den frühen 1990er Jahren wurde der Wagen auf Concours Standard aufgewertet. Seit dieser Zeit im Besitz des bekannten Mercedes-Benz Sammlers Rolf Meyer, ist der Wagen etwas gealtert, aber dennoch in einem exzellenten Allgemeinzustand. Für den Fototermin konnte der Motor direkt gestartet werden. Wassertemperatur und Öldruck ließen keinerlei Beanstandung zu. Er war Teilnehmer an einer Mercedes-Benz Kompressor Rallye (Auto Nummer '38') und war Preisträger beim Monte-Carlo Concours d'Elegance 1996.

Der 500K wurde vom Vater des derzeitigen Besitzers 2003 anlässlich der Auktion der Rolf Meyer Sammlung in Paris erworben und war seitdem Teil einer Sammlung anderer wichtiger Mercedes-Benz Automobile. Die Instandhaltung wurde von einem ortsansässigen Mechaniker durchgeführt. Die zugehörige Akte beinhaltet die Betriebsanleitung, einen alten ,,State of Oregon Certificate of Title", Papiere zum Pebble Beach Concours, Fotos der Restaurierung, einen FIVA Pass und deutsche Zulassungspapiere. EU Steuern sind bezahlt.

Das hier angebotene Fahrzeug repräsentiert das Beste was man mit Geld in der Mitte der 1930er Jahre käuflich erwerben konnte. Angeboten wird hiermit ein exzellentes Beispiel des klassischen Deutschen Modells im Stil des Cabriolet A, zu einem attraktiven Preis.
Saleroom notices
Please note that this car was originally registered in London in July 1935 as CGY 653 and was sold to a Mr. James. This information comes from Frostick's "The Mighty Mercedes" by Dalton Watson Bitte beachten Sie, dass dieses Auto urspr ünglich in London im Juli 1935 mit dem Nummernschild "CGY 653" auf den Namen von Herrn James zugelassen wurde. Diese Information ist dem Buch von Frostick "The Mighty Mercedes" des Verlages Dalton Watson entnommen.