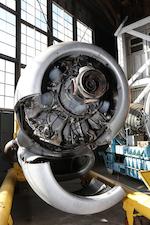 A Pratt and Whitney R-4360 "Wasp Major" radial aircraft engine,
with 28 cylinders, supercharging, and displacement of 4360 ci. This making the "Wasp Major" a marvel of engineering. One of the largest piston aircraft engines built, it produced up to 4,300hp with the addition of twin turbo chargers. The "Wasp Major" represents the last hurrah for large piston engines prior to the turbojet. The engine was well known for powering the Boeing 377 and its military variants but is best remembered for being fitted in a set of eight on the Hughes H-4 Hercules–better known as the "Spruce Goose".

This "Wasp Major" has been on display at Naval Air Station Wildwood Aviation Museum for years and is offered on a very impressive display stand, complete, and with its aluminum engine cowling.