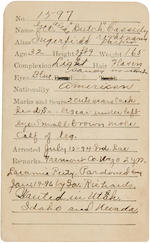 CASSIDY, BUTCH, alias. 1866-1908 or 1937.
Albumen print carte-de-visite police photograph, issued 1898/99 from an 1894 photograph taken at Wyoming Territorial Prison, on [Pinkerton National Detective Agency] mount, verso with printed and manuscript description, sunned, else extremely good.

EXTREMELY RARE AND FAMOUS MUGSHOT PHOTOGRAPH OF BUTCH CASSIDY AS ISSUED BY THE PINKERTON DETECTIVE AGENCY, THE VERSO FILLED WITH PHYSICAL AND CRIMINAL DETAILS, including his alias, here given as "Geo. alias 'Butch' Cassidy Ingerfield" and "right name: Parker" for Robert Leroy Parker. His physical description is detailed down to "2 cuts scars back head. Small scar under left eye. Small brown mole calf of leg."
This photograph, in which Cassidy looks handsome but undeniably shifty, was taken after his very first arrest. It was in Wyoming for stealing horses. Cassidy served 18 months before being pardoned by Governor Richards. Within months of his release he formed the Wild Bunch, joined up with the "Sundance Kid," and went on to rob multiple trains and banks. This card lists him as wanted in Utah, Idaho and Nevada. The Pinkerton Agency was hired by his victims to track Cassidy and other outlaws down. Though they were unsuccessful, it was pressure from the Pinkerton Agency posses which led to Cassidy and the Kid's flight to South America. Many believe that Butch Cassidy faked his own death in Bolivia in 1908, changed his appearance and lived out his life in America under the name William Phillips. The mount does not name the Pinkerton Agency, but the form is identical to the one on p 193 of Horan and Sann's Pictorial History of the Wild West for the mugshot of Bill Cruzan from the Pinkerton files. This is the earliest document of any sort that we locate linking the Pinkerton Agency and Butch Cassidy, substantially pre-dating their wanted poster issued in 1901.