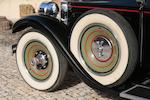 Offered from the Ivone Peitz Collection
1928 PACKARD CUSTOM EIGHT MODEL 4-43 ROADSTER

Chassis no. 228371
Engine no. 228031A

385ci Side-Valve Inline 8-Cylinder Engine
Single Carburetor
109bhp at 3,200rpm
3-Speed Manual Transmission
Front and Rear Leaf Spring Suspension
4-Wheel Drum Brakes


*Desirable open-top Roadster
*In the same ownership for 23 years
*High quality motorcar from the Classic era
*CCCA and AACA event eligible
*Delightful older restoration

THE FOURTH SERIES PACKARD

Introduced mid-summer 1927, the Fourth Series Packard Custom Eight was built on a 143-inch wheelbase chassis -- hence the 4-43 series designation. The 4-43 was powered by Packard's magnificent 385cid (6.3-liter) L-head straight eight. Introduced in mid-1923, the big 109bhp, nine-main-bearing engine had been substantially upgraded in 1926. Standard chassis equipment included mechanical four-wheel brakes and a Bijur chassis lubrication system.

Fourth Series Packard Eight production bridged over into 1928 and would total 7,798 units in both Custom and Standard model lines. One especially attractive style found among the nine Custom Eight models cataloged was the Roadster with Rumble seat, providing 2+2 motoring. Always built to the highest standards, the Packard was unquestionably one of the finest American cars of the pre-war era. "Original Creations by Master Designers" according to Packard, the custom offerings were bodied by Derham, Dietrich, Fleetwood, Holbrook and Judkins, among others. The secret of Packard's success was tight quality control and the use of only the best materials, and the company made great play of the fact that almost everything was manufactured in house.

THE MOTORCAR OFFERED

The car on offer is a 1928 Fourth Series Custom Eight model, according to its engine no. 228031A. The Roadster model is a factory two-seater convertible with rumble seat and two extra small 'golf' doors left and right to enter a luggage compartment. It features an especially low beltline and low windshield for a look that is much sleeker than many of its contemporaries.

Purchased for the European collection of Ivone Peitz in 1991 from Richard Roy, a resident of the East Coast, the Packard has been very well maintained since by the collection's private mechanic. Of museum quality, this Packard has been on display in the collection's motor house and used regularly. Restored prior to purchase, this desirable Fourth Series Packard's features include Parabeam headlamps, Packard Motometer, auxiliary driving lamps and white wall tires.

Offered in good condition throughout as an older restored example, the Packard is presented in black with red belt-line accents and detailing, set off against striking green disc wheels, including dual side-mount spares. The contrasting beige vinyl interior upholstery with red carpets presents in good order, as well as the rumble seat, which is newly trimmed in beige leather with red carpeting. Sporting a well fitting black canvas roof, this presents a great opportunity for any collector of the marque or the era to purchase a very good, well-maintained Packard. Known for their strong performance and easy even in modern traffic, such Packards are prized for their touring abilities, and this car's Roadster body style with rumble seat is one of the more glamorous ways to soak up the Packard mystique.


Saleroom notices
Please note that the correct chassis number for this vehicle is 228497 and its title is in transit.