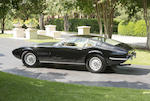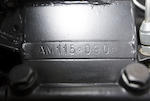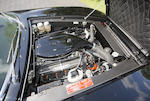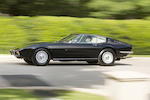 The ex-Bobbie Gentry, Amelia Island Concours Award winning
1967 MASERATI GHIBLI 4.7-LITER COUPE
Coachwork by Ghia – Design by Giorgetto Giugiaro

Chassis no. AM115.090
Engine no. AM115.090

4,719cc DOHC V8 Engine
4 Weber Carburetors
330bhp at 5,500rpm
5-Speed Manual Transmission
Independent Front Suspension – Live Rear Axle
4-Wheel Disc Brakes


*Show-winning, exceptional nut-and-bolt restoration
*Owned new by country singer Bobbie Gentry
*2014 Amelia Island Concours d'Elegance Award winner
*US-delivery model with desirable 5-speed transmission
*Offered with extensive restoration file


THE MASERATI GHIBLI

A strong contender for the "most handsome car of the 1960s" title, Maserati's Ghibli debuted in coupe form at the Turin Motor Show in November 1966. Styled at Carrozzeria Ghia by Giorgetto Giugiaro and named after a Sahara Desert wind, the Ghibli rivaled the Ferrari Daytona for straight-line performance - its top speed was close to 275km/h (170mph) - while beating it for price. More than 4.5m long and 1.8m wide, the Ghibli occupied an inordinate amount of space for a mere two-seater, but perhaps the most startling aspect of its appearance was the height, or rather the lack of it.

Dry-sump lubrication enabled the engine to be mounted deep in the chassis, permitting a low bonnet line, while limited suspension travel ensured that the tires did not foul the wheel arches. The roofline fell away from the top of the steeply raked windscreen to the chopped-off tail, Giugiaro thus achieving a cabin lower than that of almost all the Ghibli's contemporaries, albeit one with restricted headroom for rear passengers.

Like the contemporary Mexico 2+2, the Ghibli used a shortened version of the Quattroporte saloon's tubular steel chassis in its live rear axle form. In preference to the more complex suspension designs favored by its rivals, the Ghibli used leaf springs and a single locating arm, a much more easily maintained arrangement.

The power unit was Maserati's powerful, four-cam, 90-degree V8, an engine derived from that of the 450S sports racer and first seen in road-going guise in the 5000GT. This was used in 4.7-liter form up to 1970 when it was superseded by the 4.9-liter SS version in order to meet ever more stringent emission laws. The gain in horsepower was minimal, but in either case performance was stunning, with 160km/h (100mph) attainable in under 16 seconds. This neck-snapping acceleration resulted from the V8's enormous torque, which made the Ghibli one of the most flexible and easy-to-drive GTs of its era. One of the most stunning sports cars ever made, the Ghibli was a worthy rival for the Ferrari Daytona and represents exceptional value for money today, just as it did 40 years ago.


THE MOTORCAR OFFERED

This outstanding example of Maserati's classic Ghibli Coupe stands out as one of the finest restored examples of the model that we have ever seen. Completed at Maserati's Modena workshops in 1967, this early-production Ghibli, chassis no. AM115.090 was built as a left hand drive coupe for the US market, and finished in red over a white interior. The new Ghibli had been ordered by country music singer and songwriter Bobbie Gentry, who had just reached stardom with her number one Billboard 100 hit Ode to Billie Joe, released that same year. Gentry later married casino mogul and automobile collector Bill Harrah; cars must have been quite the common passion of the couple!

After Gentry's ownership, AM115.090 traveled west, where it was owned by a Mr. George Bolton of Carmel, California, before being purchased through another collector by a Mr. Richard Morrow of Forest City, North Carolina. By 1982, AM115.090 was owned by Knoxville, Tennessee resident, William H. Butler, and the Maserati would stay with Mr. Butler for a decade and a half. In 1996, the aging Ghibli came to the attention Tampa, Florida based restorer and enthusiast, Al Sedita Jr. Sedita, a seasoned restorer, saw the Ghibli as the perfect candidate for a full restoration, and as soon as the Ghibli was purchased, Sedita would focus the next decade and a half on making the Ghibli a show winner again.

According to Sedita, he would spend more that 6,000 hours on the restoration of AM115.090. Furthermore, specialty shops would aid in areas where Sedita thought he wouldn't be able to deliver the best result himself. The paint and bodywork preparation was handled by Special Cars Only of Oldsmar, Florida, and receipts for just this aspect of the restoration total over $30,000. When completed, all new body gaskets and seals were carefully installed. All chrome, stainless and aluminum pieces were refinished by Don's East Coast Restoration of Lindenhurst, New York, while gauges, switches and instruments were all restored by specialist shops. Correct clamps, hoses and hardware were used, as well as original Carello lenses and lamps. The Ghibli's interior and trim restoration was entrusted to Rudi Bailey of Tampa, Florida.

Since the engine and transmission had been rebuilt while in in Mr. Butler's ownership, no more than a re-seal and inspection was necessary. The Ghibli's hydraulic and braking systems were rebuilt, a new exhaust was installed, the suspension received new bushings and joints, and the carburetors were rebuilt with new throttle shafts. Finally, the sporting Campagnolo alloy wheels were restored and fitted with correct Pirelli Cinturato tires.

With the black Ghibli finally finished, Sedita trailered the car to one of the most prestigious classic car events in the US, the Amelia Island Concours d'Elegance, where the Ghibli was entered for judging among some of its most impressive and fastidiously-maintained contemporaries. Highly impressive, yet fully deserved, the black Ghibli was awarded the coveted Amelia Award, in recognition of the 100 year anniversary of Maserati, equaling a class win in the post war category. Renowned collector car aficionado and publisher of Sports Car Market magazine, Keith Martin, later commented on his blog after his visit to the Concours: "The most beautifully presented of the modern cars was another Ghibli, a 1967 coupe owned by Al Sedita, Jr. It was seductively sinister in black, and perfectly restored in and out".

This magnificent Ghibli, meticulously restored, with a five speed manual transmission, and presented in a striking color combination, truly stands out among its peers as one of the finest examples of the model surviving today. Included in AM115.090's history file are hundreds of receipts for parts and sublet work performed during the restoration, all neatly organized by date and attesting to the highly detail-oriented quality of the work. With Ghibli restorations to this fanatical level few and far between, we believe that a better Ghibli will be very hard to find indeed; this car's next owner will surely be impressed with the quality of this fantastic Maserati.

Saleroom notices
Please note that the title for this vehicle is in transit.