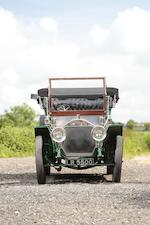 Formerly the property of Rod Blood, ex-President of the Veteran Motor Car Club of America
1908 NAPIER TYPE 23A 45HP SEVEN SEATER TOURING CAR

Chassis no. 4134
Engine no. 3347

6,178cc Side-Valve Inline 6-Cylinder Engine
Single Carburetor
45bhp
3-Speed Manual Transmission
Front and Rear Leaf Spring Suspension
Rear Mechanical Expanding Drum Brakes


*One of the preeminent luxury cars of its day
*Large horsepower, exclusive Brass-era touring car
*Original coachwork
*Known early US collector history
*Freshly restored and not shown in the US

THE NAPIER

The Napier marque was favored by royalty and nobility the world over, influenced in no small way by the engineering brilliance of Montague Napier and, in the early days, the marketing genius of Selwyn F. Edge who brought the marque to prominence at the turn of the nineteenth century. D. Napier & Son were there in the infant years of the motor car and Edge recognized the importance of successful competition in the new-fangled motor sport, Napier participating with distinction in the 1,000 Miles Trial in 1900 with a prototype model.

Napier claimed many firsts, building the first British racing car for the Gordon Bennett Race of 1901 and winning that prestigious event in 1902, the car wearing for the first time the British Racing Green livery. Napier claimed also to be the first manufacturer to offer a six-cylinder car in a production model – the 18hp car of 1903 – and it was another six-cylinder model, this time a mighty 60hp racer, which set a new record at the newly opened Brooklands track in 1907, driving at an average speed of 65.9mph for 24 hours.

D. Napier & Son, Ltd., was formed in London during 1808. Engaged in precision engineering, the company had among its products a range of printing presses. By the turn of the Twentieth Century, however, it had fallen on hard times. The grandson of the founder, Montague Napier, decided to revive it with automobiles.

His first product was a vertical-twin engine with coil ignition, built for his friend Selwyn Francis Edge. Edge formed the Motor Power Company in 1900 for distribution of automobiles, and for more than a decade was Napier's sole distributor and promoter. That same year a Napier automobile successfully completed the British 1,000-mile Trial.

In 1901, Napier and Edge decided to go racing, and built a 17.1-liter, two-ton competition car, but their more successful line was in passenger cars. One of their best customers, telephone magnate Charles Jasper Glidden of Massachusetts, carried the Napier name on a series of long-distance tours, one of which became the series carrying his name.

Napier achieved the distinction of producing the world's first commercially-viable six-cylinder engine, in 1904. A five-liter car with mechanical overhead intake valves, it soon spawned a 15-liter racing version. Napier, however, aimed squarely at the luxury market, a 60hp, 7.7-liter six becoming the best-known model. In 1908 came a five-liter L-head six with three-speed gearbox and shaft drive. Colonial models with a raised chassis had greater ground clearance for use in less-developed Commonwealth countries.

THE MOTORCAR OFFERED

For the majority of the bigger horsepower automobiles of the pre-teen and teen age, their reliable power plants outlived their coachwork in terms of fashion/design and use and they would go on to have secondary existences in Europe within the Great War effort, or here simply as commercial applications, numerous cars becoming fire or farm apparatus.

To find cars from this period that were both built as sporting touring vehicles and retain their original coachwork is incredibly rare, particularly if they are of large horsepower. This stunning pre-teen Napier is one such remarkable survivor.

Napier chassis no. 4134 left the Acton works on October 30th, 1908. Owing to the agency arrangement between Edge and Napier sadly no record exists of its original owners, but it can safely be assumed that they were as well heeled as the numerous Maharajahs and people of nobility that the company could count among their clientele, and that they ordered the very handsome seven passenger touring coachwork it has retained to this day.

Roughly a third of the way through its life the car had found its way to America, where it was owned for some considerable time by noted car collector and President of the VMCCA, Roderic M. Blood of Weston Newton, not far from Boston, Massachusetts.

One of the very well known of the pioneering collectors such as Cameron Peck and James Melton, Rod Blood was noted for his collection of Packards, and over the years the Napier would have shared a stable with a number of them including an early example of Packard's famed Model 30, as well as an early 1906 Pierce Great Arrow Opera Coach.

Rod Blood's collection was dispersed on his death in the late 1960s. A little later the Napier was repatriated where it would join one of the most extensive collections being assembled in the UK in the 1960s, that of textiles magnate Peter Black. The car remained in this collection for more than three decades, until it was sold in 2007 to the current owner, an enthusiastic collector of early and pre-war automobiles.

By this time, a restoration which was thought to date from the immediate post-war period and Blood ownership had aged considerably, and the decision was made to return the Napier to the fine condition in which it would have been delivered new and more befitting such an important motor car.

Its paintwork was carefully stripped back and brush painted in traditional Napier Green livery, while its polished through nickel has been expertly replated and wood revarnished. The full effect is truly befitting of such an important vehicle of this period.

Returning to its former home country of many years for this year's Quail Lodge Auction, this handsome, imposing and fast Napier is yet to have been shown or toured in America.

Inevitably compared today, as it would have been when new, to cars such as a Rolls-Royce Silver Ghost, it is offered at a fraction of what one of the handful that share comparable originality and history might cost today, were it possible to pry them away from their owners.








Footnotes
Saleroom notices
Please note this vehicle is no longer subject to import duty.