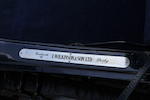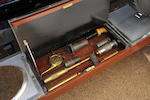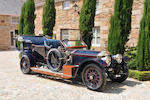 The Hordern Ghost – Previously owned by Richard C. Paine Jr. and John Mozart
1913 ROLLS-ROYCE 40/50HP SILVER GHOST ROI-DE-BELGES TOURER
Coachwork by I. Wilkinson & Sons

Chassis no. 2617
Engine no. 11A

7,428cc L-Head Inline 6-Cylinder Engine
Single Carburetor
50bhp at 1,500rpm
3-Speed Manual Transmission
Front and Rear Leaf Spring Suspension
Rear Drum Brakes


*Well-documented example of the epic Silver Ghost
*Sporting Roi-de-Belges Tourer style coachwork
*Matching numbers drivetrain
*Great Silver Ghost for tours and driving events
*Offered with extensive history file


THE ROLLS-ROYCE 40/50HP SILVER GHOST

For anyone not familiar with the model, the Silver Ghost towers above many of its contemporaries in that it was entirely over-engineered and built to last forever, but also it was well marketed and so was very successful, causing it to remain in production for nearly 20 years.

Henry Royce's fastidious attention to detail ensured that where a certain level of build quality was necessary for a car to work properly, he would ensure it far exceeded this requirement. One only need gaze at the engine or rear axle, each held together with so great a number of bolts that it seems possible that they were intended never to come apart, indeed on a few surviving examples they never have! Where one ignition system was enough for some cars, naturally the Rolls had magneto and coil. Throughout the car a "belt and braces" approach was taken.

Where other manufacturers with products of similar quality faltered, thanks to the marketing genius of Claude Johnson the model sold well, and the reputation that it earned meant that Ghosts have been prized from day one. Because of this they were rarely scrapped, though often, since the running gear continued to perform long after the coachwork was fashionable, many have had a series of 'lives' from luxurious transport to reliable workhorse.


THE MOTORCAR OFFERED

As with most models of the marque, research for these cars is relatively straightforward as the Rolls-Royce Enthusiasts Club hold copies of the original order and build cards in their archives. The records demand close examination, for they detail virtually every component of the running gear and chassis, the dates on which they were tested and retested and further, when and if servicing was completed later in the car's life. The company also kept note of any changes of ownership that they were made aware of.

From the full set of records for chassis no. 2617, it is confirmed that this Silver Ghost was dispatched from the works on October 25th, 1913, fitted with the engine it still retains, number 11A, and in nickel finish for radiator and bright work fittings, again as today. It was sent to probably the finest quality coachbuilder of the day, Barker and Co., who furnished the chassis with a limousine body capable of carrying as many as seven passengers, though normally four with light luggage.

The completed car was sold new through Glasgow agent, L.C. Seligmann, and dispatched to Australia where it would become the latest of a few Silver Ghosts to be owned by the Hordern family of Sydney. Anthony Hordern and Sons were extremely successful retailers and the late 19th and early 20th Century was their heyday - at around this time the business they owned was the largest department store in the Southern Hemisphere in Sydney, occupying some 15 acres.

For the subsequent history of this car and of many others that travelled to Australia, we are fortunate to be able rely on the extensive research of Ian Irwin, who meticulously chronicled the detailed histories of these cars in his book Rolls-Royce in Australia.

Between the many Hordern family members, and the number of Rolls-Royce cars that they owned, deciphering the specific histories of each car is no small task. Working with Mr. Irwin, who has conducted research beyond that printed in his book, we have been able to confirm that this Ghost was supplied to Mrs. Anthony Hordern Senior, a widow whose husband had died in 1886. Mrs. Hordern lived at Drummoyne House, Drummoyne, close to Sydney. The car was registered for the road with the New South Wales number (NSW) 42. It is understood to have arrived in Sydney in the middle of 1914 and was most noted for its livery which was a deep regal purple.

We believe that on Mrs Hordern's death in 1919, the car passed to her niece, Mrs. (later Lady) Samuel Hordern, who was by then resident at Babworth House, Darling Point, Sydney. Returning to the factory records, these confirm that by August 1919 the car was serviced for Major Samuel Hordern and around this time it received what is described as a light overhaul, the brakes and gearbox being attended to and diagonal stays added to the front cross member – again these are still worn by the car, confirming the originality of the mechanical aspects.

The Company's last note of ownership comes on January 17th, 1930, when the car passed to Wood Coffill and Co. Ltd. of Sydney. At this point it is understood that the car suffered the same fate as many Silver Ghosts, in that it was rebodied or converted for use as a hearse.

Ian Irwin confirms that it was bought from Wood Coffill by Bernard Dowd of Mt. Martha, Victoria, in 1941 and remained with him for more than 30 years until it was purchased from his estate by Robert Griffith and David Jones.

At this time it was sent to renowned Silver Ghost specialist Jonathan Harley of Stratford-on-Avon, who was entrusted with a comprehensive refurbishment of the chassis. In cataloguing the car Bonhams spoke with Mr. Harley who recalled 2617 well and commented on how well preserved and unmolested the chassis was. This is similarly borne out by photographs in the Irwin book showing the car in rolling chassis form in this period.

Mr. Harley's mechanical work was matched by that of modern day coachbuilding house I. Wilkinson & Sons of Derby whose fine work ensured that a number of Rolls-Royce, Bentley and other cars returned to the road with period style coachwork. In this case they constructed a Roi-de-Belges type touring body for the car, complete with dog-leg windshield, full length hood, running board tool boxes etc. When completed the Ghost was actively campaigned on the Concours circuit and on tours, receiving a number of awards. A few years later the car was sold to renowned American collector John Mozart, later passing into the renowned collection of Richard Paine where it saw frequent use.

Acquired by the present owner at Bonhams 2007 Richard C. Paine Jr. Collection Auction, the Ghost has since been meticulously maintained in the Channel Islands, forming part of a small and select collection, maintained by a resident engineer in a purpose built display facility.

On close inspection today, in addition to the known provenance of the car, it is reassuring to find that the car would appear to retain its full running gear, from matching engine, the additional struts to the front cross member which are mentioned in the factory records and even little details such as the chassis number stamping on the gear lever shaft. The trays in the running boards contain a near full set of Rolls-Royce tools. The Ghost's history file includes photographs of the restoration and copies of the original build cards.

With the restoration now aged a little, this remains a very handsome example of the model enhanced by its subtle livery and comprehensive set of period lighting and accessories. A superb example of the Silver Ghost for tours and driving events, this 100-year-old motorcar is now ready for the next caretaker.