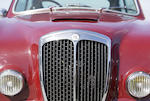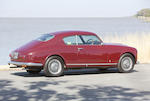 Equipped with Nardi Performance Kit and floor-shift
1955 LANCIA AURELIA B20 GT 4th SERIES COUPE
Coachwork by Pinin Farina

Chassis no. B20-3618
Engine no. B20-4372

2,451cc OHV V6 Engine
2 Weber Carburetors
Approximately 135bhp at 5,000 rpm
4-Speed Manual Transmission
Sliding Pillar Independent Front Suspension – De Dion Rear Axle
4-Wheel Drum Brakes


*Desirable early 4th Series example with De Dion rear suspension
*Equipped with Nardi performance kit and floor shift
*Believed to have lived in Italy for most of its life
*Attractive Borrani wire wheels
*Mille Miglia eligible


THE LANCIA AURELIA

Lancia's classic Aurelia, the first car ever to employ a V6 engine, was launched at the 1950 Turin Motor Show. Designed in wartime by Francesco de Virgilio, the 1,754cc 60-degree V6 was of all-aluminium construction and used overhead valves operated via short pushrods instead of Lancia's traditional overhead camshafts. An advanced unitary construction design, the Aurelia retained Lancia's 'sliding pillar' independent front suspension, first seen on the Lambda, but used a novel semi-trailing-arm layout at the rear, another world first. The transmission too, was unusual, comprising a two-piece prop-shaft and combined gearbox/rear transaxle on which were mounted the inboard brakes, though for once this was not an entirely new departure.

The B10 saloon was joined the following year by the Pinin Farina-styled B20 Coupe, a fastback 2+2 on a shortened wheelbase, which, with its combination of sports car performance and saloon car practicality, can be said to have introduced the Gran Turismo concept to the world. The Aurelia engine had been increased to 1,991cc in 1951 and it was this unit in up-rated form that went into the B20. Lighter and higher geared than the saloon, the B20 was good for a top speed of over 100mph. Introduced in 1953, the 3rd and subsequent series B20s were powered by a 2,451cc, 118bhp version of the pushrod V6, while 4th-series onwards cars had De Dion rear suspension instead of the original semi-trailing-arm arrangement. An engineering tour de force clothed in sublime coachwork by Italy's foremost carrozzeria, the Aurelia B20 represents for many the zenith of Lancia's post-war production.

THE MOTORCAR OFFERED

The 4th Series B20s are perhaps the most coveted out of the Aurelia B20's six series; the introduction of the De Dion rear end improved handling and stability at high speeds, while these early cars are eligible for a number of high-profile motoring events worldwide. This charming 4th Series Aurelia B20 GT has both an intriguing Italian ownership history and uprated performance specification by Enrico Nardi's famed firm, designed to extract the most out of the B20's robust mechanicals.

Handsomely equipped with a full complement of period Nardi performance equipment, this Aurelia is stated by the consignor to be significantly quicker than his previously owned Nardi-equipped B24 Spider America. Desirable upgrades present on the B20 include twin Weber carburetors with Nardi cast air cleaner and manifold, floor shift conversion, and hood scoop. Visually the car is set off via Borrani wire wheels more commonly seen on Aurelia Spiders. Up front, original Carello headlamp lenses are a testament to the largely original nature of the car.

The B20 is understood to have remained in Italy its entire life until being exported to the US in 2011. Copies of period Italian registration documents show the B20 residing with a Mr. Romano Zangrossi in Padova, Italy during the 1960s, and registered on Padova license plates.

The Lancia appears to have had a few subsequent Italian owners, culminating in Dario Luraghi, reportedly the son of Giuseppe Luraghi, the highly revered and very successful president of Alfa Romeo from 1960 to 1974.

Eventually, the B20 came to the United States thanks to Timothy Mullens of North Carolina, before being sold to the California vendor, a longtime sports car enthusiast, within the last several years.

Since arriving in the US, the B20 GT has been very well maintained and serviced, as documented by copies of service receipts included in the car's history file. In 2012, the B20 received a new clutch, motor mounts, and other service items. Extensive service and maintenance receipts from its previous owner attest to further efforts to keep the B20 in fine condition throughout.

An assortment of tools, a jack, and a neatly fitted spare tire cover in the trunk round out the Aurelia's presentation. A beautifully presented, but not over-restored car, this Aurelia would be a fine choice for almost any rally or tour. It is eminently eligible for events such as the Mille Miglia and the California Mille, and would equally at home on California's Highway 1 through Big Sur, or traversing the legendary Futa-Raticosa pass of Italy's 1000-mile epic.

Footnotes