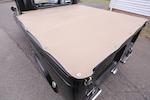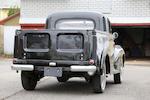 Ex- Whoopi Goldberg
1956 Morris Minor 1000 Quarter-Ton Pickup
Chassis no. 0FE473195
Engine no. 9M-U-H-182969
1,098cc 4-cylinder
Single SU Carburetors
48hp
3-speed transmission
4-Wheel drum brakes

*Extremely charming and quite practical
*Easy to service with excellent parts supply
*Celebrity provenance with Whoopi Goldberg
*Not going to see another one at Home Depot

The Minor

Arguably the fondest-regarded of all Britain's post-war saloons, the Alec Issigonis-designed Morris Minor was launched at the 1948 Motor Show. By January 1961, one million units were sold, and Morris Minor became the UK's most successful post-war car to date. The first new post-war Morris design, the unitary construction Minor boasted torsion bar independent front suspension, rack-and-pinion steering and a four-speed synchromesh gearbox. Powered initially by the company's existing 918cc side-valve four, the Minor received an 803cc overhead-valve engine in 1953. A pair of two-door models was offered initially: a saloon and a convertible. A four-door saloon appeared in 1950, with estates and commercials following later. In 1956 the Minor 1000 with 948cc A-Series engine
appeared, and the model received a further capacity boost (to 1,098cc) in 1962.

The styling too was revised progressively: the headlamps moved from the radiator grille to the wings on the Series II; the split front screen was superseded by a curved one-piece windscreen on the Minor 1000; and flashing indicators eventually replaced the original semaphore trafficators. Despite the many changes, the final Minor remained recognizably the same car as the 1948 original. By the time production ceased in 1971, more than 1.5 million Minors of all types had been sold.

The Motorcar Offered

This nice older restoration Morris is the seldom seen quarter-ton pickup variant. Introduced in 1953, they proved popular with the UK post office in particular. Having the great economy of the standard saloon with good load carrying capability of a truck it could be thought of as the English El Camino.

Recently owned by actor and comedian Whoopi Goldberg, the file includes paperwork and photos of her with the car. Restored to authentic standards one concession to modern convenience has been made with the discretely hidden CD changer in the glove box.

Great fun and always charming this little Morris pick up is bound to be a crowd pleaser wherever it is driven.

Saleroom notices
Please note that some of the technical bullet points listed in the catalog are incorrect. This Morris is fitted with its original 948cc OHV inline 4-cylinder engine producing 37bhp at 4,750rpm. This motor is mated to its original 4-speed manual transmission with synchromesh on 2nd, 3rd, and 4th gear.