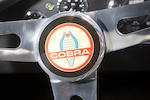 2007 Shelby Cobra 427 S/C Continuation Series
Chassis no. CSX4942
427ci OHV V8 Engine
Single Holley Four-Barrel Carburetor
Approximately 500bhp at 5,600rpm
5-Speed Manual Transmission
4-Wheel Independent Suspension
4-Wheel Disc Brakes

*Carroll Shelby's Continuation of the 1960s Shelby Cobra legacy
*Assigned with new CSX number, and listed in the Shelby Registry
*Exquisite presentation in every way
*The right looks, sound and driving experience
*Less than 1500 miles from new

Shelby's Continuation Series Cobras

Undoubtedly the most copied automobile in the world is the Shelby Cobra. So few were built, so simple was the original concept, and so appealing was the completed product, that almost as soon as Carroll Shelby got out of the business of building Cobras others jumped in.

Carroll Shelby finally realized that he had a marketable identity even a generation after the original Cobras became uncompetitive on racetracks and in the marketplace. He experimented with continuation cars, completed some leftover chassis, dealt with the successors to AC and finally created a complete Cobra product offering sold by Shelby American, Inc. as the CSX 4000 and 7000 series official continuation series Cobras.

The authenticity of each continuation cobra is documented by Shelby American, Inc, with a CSX chassis number assigned to each car, and a Statement of Origin (MSO) signed by Shelby personally. Improvements over the 1960s era Cobras include a stronger frame and better alloys used in the components, better cooling and additional heat shielding to make these cars safer and more drivable without loosing their classic character. With 0-60mph times in less than 4 seconds, and 12 second quarter mile performance, these cars offer the looks and exhilarating drive of the Cobras built in the 1960s, at a much more sensible price tag.

The Motorcar Offered

CSX4942 was completed at the Shelby American plant in November of 2007, near the end of the Shelby Continuation Series Cobra production, as a 427 S/C model with fiberglass bodywork. The Shelby issued Statement of Origin lists Performance Auto Group, LLC of Summit, New Jersey as the original purchaser.

The new Cobra was finished as seen today, sporting a classic silver metallic exterior over the optional black leather interior. It was fitted with all the correct 427 S/C features; side pipe exhaust, quick-jack lifting points instead of bumpers, a paperclip-style roll bar, wide Halibrand-style alloy wheels and a quick-filler gas cap placed prominently atop the right rear fender. The engine choice was a balanced and blueprinted 427FE engine, fitted with aluminum heads, headers, and nearly every performance upgrade available, and installed by the noted Shelby specialists at HRE Motorcars.

Having most recently resided in a Connecticut-based collection of classic and modern supercars, CSX4942 is believed to have had just 3 owners from new, and is currently registered as a 1965 model year Cobra Shelby in Connecticut. With its stealth looks, raw power yet sensible road manners, this Continuation Series 427 S/C offers a whole lot of fun and good looks for the money.
Footnotes
Saleroom notices
Please note that the title for this vehicle is in transit.