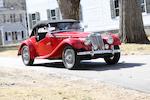 1955 MG TF 1500
Chassis no. HDE43/9637
Engine no. XPEG/3382
1,500cc OHV Inline 4-Cylinder Engine
2 SU Carburetors
63bhp at 5,500rpm
4-Speed Manual Transmission
Front Independent Suspension – Live Rear Axle
4-Wheel Drum Brakes

*Fastidiously restored example
*Matching numbers
*Factory US delivery, left hand drive TF
*Owned by MGT register member #3 George Taylor
*The final evolution of the T-Series MG Sports car

The MG TF 1500

Although MGs had been available in the United States in the 1930s, the marque's great popularity really began after World War II. The classic TC model, with its large wire wheels, right-hand drive and exposed rear fuel tank, was regarded as the quintessential British sports car. In 1949, the improved TD offered independent front suspension, rack-and-pinion steering, disc wheels and left-hand drive for New World markets, and in 1952, MG became the best-selling import in America.

After the TD came the TF; the new model was given an evolutionary makeover, with a swept-back radiator grille and more sweeping fenders. Headlamps were nestled into the inner surface of the front fenders. Mechanically, the new TF model was TD-based, using the same XPAG 1,250cc engine, but with valve and carburetor improvements. In mid-1954 a new enlarged XPEG 1500cc motor was fitted making 63hp and the model was now designated the TF 1500.

MG's TF is the final evolution of the T-series, a lineage dating back to the TA of 1936. The inherent rightness of MG's concept when designing the TA is evident in the long life enjoyed by the T-series, and in the effect these cars had in the years just after World War II, when they formed the foundation for the sports car movement in America.

The Motorcar Offered

This TF 1500 has received a full nut and bolt restoration and shows extremely well today. The work was done to a very high standard, with a neatly installed top and interior, excellent panel work and paint, and a beautifully detailed engine compartment and undercarriage. Done to factory correct standards, the car still retains its matching numbers XPEG engine.

This car was restored while in the ownership of George Taylor, who was MGT register member #3. The only concessions made were an accessory oil cooler and the fitting of 3.90 gears – a big improvement over the stump pullers the factory fits. A close inspection underneath the car reveals the lengths the restoration went to, and the quality of the work.

The combination of the expert restoration with the taller gears makes for a great driving TF. On a recent demonstration run the car thoroughly impressed with its smooth engine and tight chassis. The TF felt like a car that had been well sorted out and set up for maximum driving performance. This is a great example of the beloved MGTF.