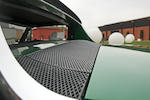 1975 Porsche 914 2.0 Litre Coupé
Chassis no. 4752910074
Porsche's strong historical links with Volkswagen we reaffirmed in 1969 with the launch of the Porsche-designed VW-Porsche 914, a mid-engined, Targa-top sports car to be assembled by Karmann of Osnabrück. At the time Volkswagen needed a new car to replace the ageing Karmann-Ghia while Porsche was looking for another option to add to its line-up. First seen at the Frankfurt Auto Show, the 914/4 used the 1,679cc, four-cylinder, air-cooled motor of the Volkswagen 411 while the 914/6 was powered by the Porsche 911T's 2.0-litre six. Both cars employed all-independent suspension - a mixture of 911 and VW parts - to which were married four-wheel disc brakes and a five-speed gearbox. The 914's reputation for excellent handling was somewhat marred by criticism that the four-cylinder version was too slow, though lack of speed was never a shortcoming of the 914/6. The latter was a relatively short-lived model and in 1973 was effectively replaced by the 1,971cc four-cylinder '914 2.0', which also featured forged alloy wheels, front and rear anti-roll bars and an improved interior incorporating additional instrumentation.

Finished in Zambezi Green with beige interior, this rare modern Porsche was comprehensively restored in 2013 and is described as in generally excellent condition. The car is offered with Italian registration documents.

Peinte en gris Zambèze avec intérieur beige, cette rare Porsche moderne a été entièrement restaurée en 2013 et est décrite comme étant en excellent état général. La voiture est vendue avec ses papiers d'immatriculation italienne.