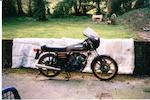 c.1980 Morini 250cc C2
Morini's small capacity vee twins, between 250 and 500cc, were designed for discerning enthusiasts. Virtually every UK road test ever published praises the motor's free-running charm, coupled with very "flickable" handling. Going back slightly earlier we should recall how Tarquinio Provini and Giacomo Agostini, when mounted astride single cylinder "works" Morinis, frequently beat the Honda factory's fast new "multis" in numerous GPs. Purchased from NLM about ten years ago the vendor has ridden the quarter litre Morini just once; content thereafter to store this quite rare 250cc example beside his active collection of racing cars. At first glance the C2's rather sober paintwork [described in contemporary factory literature as Tobacco Brown] belies its current condition which, for a 30-year old machine, is between Satisfactory and Good. It is believed the engine was rebuilt during a previous ownership. Offered without documentation.
Saleroom notices
The Frame number is J03842 DGM1980OM. We cannot locate an Engine number.