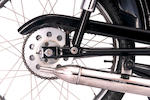 1958 MV Agusta 83cc Ottantatre
Frame no. 83-550860
Engine no. 83-555888
After the launch of its first production four-stroke - a 175cc, overhead-camshaft, unit-construction single – in 1952, MV followed up with a succession of related models. The smallest of these was the Ottantatre sports roadster (the name means '83', referring to both the engine's unusual capacity in cubic centimetres and the model's dry weight in kilograms) which featured an overhead-valve engine with inclined cylinder, suspended beneath a spine-type frame. The engine's maximum output of 3.69bhp was transmitted via a three-speed gearbox, giving a top speed of around 45mph, though the Ottantatre's exceptional frugality – up to 200mpg was claimed – would have been of greater interest to the majority of potential customers. Like their larger siblings, the small MVs were relatively expensive, which explains why so few of these exquisitely engineered and undeniably very pretty little bikes were sold in the UK. Production of the Ottantatre lasted from 1958 until 1962. Boasting the optional 'San Remo' alloy wheel rims, this beautifully presented Ottantatre benefits from restored cycle parts and electrics, the mechanicals being described as original. The machine is offered with Belgian registration papers.
Footnotes
Saleroom notices
The Frame number is 83-555878,