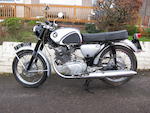 1965 Honda 250cc CB72
Registration no. FYE 30C
Frame no. CB72 103802
Engine no. CB72E 103865
Based on the first Honda twin - the 250cc C70 of 1957 - the C72 arrived in 1960. The C72 tourer's cycle parts remained much as those of the preceding C70, featuring a pressed-steel frame, forks, swinging arm and rear chain case. The engine's basic layout likewise was retained but wet sump lubrication was adopted and the clutch moved from the crankshaft to the gearbox main-shaft. Maximum power increased to 20bhp at 8,000rpm. As well as these alterations, the sporting CB version changed to a 180-degree crankshaft and twin carburettors, and used a tubular spine frame instead of the pressed-steel chassis of the tourers. Producing 24bhp at a then-stratospheric 9,000rpm, and weighing only 340lbs, the CB72 possessed an excellent power-to-weight ratio endowing it with performance challenging that of many British 500s. Boasting an overhead-camshaft engine, electric starter, rev counter and twin-leading-shoe brakes, the CB72 was unmatched by any of its rivals. Indeed, such specifications (electric starter apart) would have been the exclusive preserve of exotic racing machinery only a few years previously. Tailor-made for production racing, the Honda CB72 was one of the first Oriental models to make its mark in this increasingly popular and important branch of motorcycle sport. Today the CB72 is one of the most desirable of early Japanese classics.

This particular CB72 was purchased by the lady vendor's late husband in 2003 in its present condition. Restored by a previous owner, the machine was in running order when acquired but has not been run since. 'FYE 30C' was supplied new in June 1965 by well-known Honda agents Rex Judd Ltd of Edgware, Middlesex. The first owner appears to have kept the machine for only two months before passing it on to the second owner. There is only one further owner recorded in the accompanying original green logbook. Offered with current V5C registration document, the machine will require basic safety checks and re-commissioning before returning to the road.