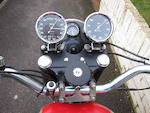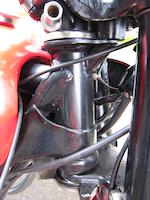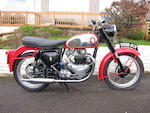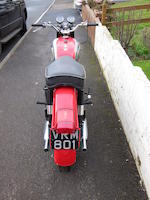 1958 BSA 646cc A10 Super Rocket
Registration no. VRM 801
Frame no. none
Engine no. CA10R 7692
'The Super Rocket has a near-three-figure cruising speed – a performance to meet the autobahn ambitions of foreign-touring enthusiasts, or those who buy motorcycles with an optimistic eye to the extension of motorway travel at home in the not too distant future. On the other hand, the current model can be throttled back to accept happily the inevitable limitations of built-up-area riding. In these less spectacular circumstances, one's patience in jogging along at 30mph is rewarded by a remarkable - for a lusty 650cc twin - fuel consumption also in the three-figure class.' - Motor Cycling.

BSA's range for 1955 embodied several novel features; alongside the existing plunger-framed machines were new models equipped with swinging-arm rear suspension, while the A7 Shooting Star and A10 Road Rocket sports twins came with new aluminium-alloy cylinder heads. The latter produced a highly respectable 40bhp, and as tested by Motor Cycling magazine was found capable of reaching 109mph. For 1958 the sports 650 became the Super Rocket, gaining a revised cylinder head, Amal Monobloc carburettor and an extra three horsepower. The model lasted into the unitary construction era and was last produced in 1963.

This Super Rocket was purchased by the lady vendor's late husband in 1998 in its present condition. Restored by a previous owner, the machine was in running order when acquired but has not been run since. It is fitted with matching Smiths Chronometric speedometer and optional tachometer with separate headlamp in place of the nacelle, plus Akront alloy wheel rims and a cartridge-type oil filter. Since purchase the machine has been fitted with a new chain and exhaust system (receipts on file).

It appears that 'VRM 801' has had a new replacement frame fitted at some time, which has not been stamped. The engine is original, as evidenced by the accompanying copy extract from the Cumberland vehicle registration ledger. The machine also retains its original Cumberland registration mark. Accompanying documentation consists of the aforementioned ledger extract, a current V5C, some old MoT certificates, sundry receipts and five expired tax discs. In present ownership the machine has been used only for static display at various shows. It will require basic safety checks and re-commissioning (including a new front inner tube) prior to further use.