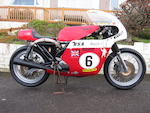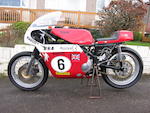 BSA 750cc Rocket III 'Rob North' Racing Motorcycle
Although up-staged in the showroom by Japanese rivals, the Triumph and BSA 750 triples did more than enough on the racetrack to ensure their place in motorcycling history. BSA-Triumph's Chief Engineer Doug Hele spearheaded engine development throughout 1969, while frame builder Rob North devised a chassis that would stand the test of time like few others. The team narrowly missed victory at the 1970 Daytona 200, its first major event, Gene Romero finishing second on a Triumph. Dick Mann's BSA won at Daytona in 1971 and John Cooper, also BSA-mounted, at Mallory Park's Race of the Year, vanquishing the hitherto unbeatable combination of Giacomo Agostini and MV. Percy Tait and Ray Pickrell had won the 24-hour Bol d'Or endurance race the preceding week on another Triple, and Cooper wrapped up a memorable international season for BSA-Triumph with victory in the 250-mile race at Ontario in October. Financial difficulties meant that there was no works effort in 1972, but privateers kept the Triples winning for many years. Miles Engineering later acquired the rights to the North chassis and continued production, ensuring that the BSA-Triumph triples remain a potent force in classic racing today. Rob North frames are currently produced by Trident MCS of Woodsetton, West Midlands.

This 'Rob North' triple was purchased in its present condition in 1998 by the vendor's late husband from well-known tuner and sponsor Fred Walmsley. Little is known about the machine's previous history, though it appears to have several works-type modifications and is believed to have a Quaife five-speed transmission. Other noteworthy features include triple Lockheed disc brakes, Akront alloy wheel rims, Krober tachometer and an oil cooler in the nose of the 'letterbox' fairing. The engine is not numbered; however, the BSA back stamping is present where the number would be located, indicating that it probably was constructed with new crankcases. The frame is also without an identification number. Used only for display at various shows - the engine has never been started during the present ownership - the machine will require basic safety checks and re-commissioning prior to use. There are no documents with this Lot.