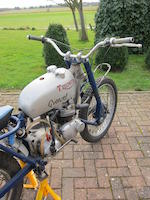 1966 Greeves-Triumph 350cc Project
Frame no. 24MDS 258
Engine no. T90 H46656
One of the most popular of all off-road specials, the Greeves-Triumph (or 'Tri-Greeves') has over the years established itself as a marque in its own right. Greeves' two-stroke-engined trials irons were among the most competitive of their day, but although the chassis was widely recognised as among the best, there were many riders unwilling to put up with the stroker's sometimes wayward temperament. The obvious solution was to fit a four-stroke engine, and as Triumph's compact 350cc twin was a relatively easy fit, it rapidly became the power unit of choice for those wishing to combine the excellent handling characteristics of the Greeves frame with a torquey four-stroke motor. This example comprises a Greeves 24MDS scrambler frame dating from around 1962/1963 with a Tiger 90 engine dating from 1966, although its actual date of construction is unknown. The machine was purchased for restoration three years ago but has not been touched since acquisition. There are no documents with this Lot.