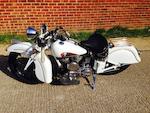 1935 Indian 45ci Sport Scout
Engine no. FCE 423
A 45ci (750cc) variant of Indian's Scout was first offered in 1927 and then in April 1928 the 101 Scout appeared featuring a revised 750cc 'flat head' engine in a new, longer-wheelbase frame. This sporting machine would prove an immense success for the Springfield firm, so much so that its replacement in 1931 by a heavier Chief-framed model was greeted with dismay. Introduced in 1934, the Sport Scout went some way towards retrieving the Scout's reputation, featuring a lighter 'keystone' (open) frame and European-style girder forks. Lighter and faster than its immediate predecessor, the Sport Scout was just what enthusiasts and racers had been crying out for, and today remains a favourite among discerning Indian owners and riders. Previously the property of an Elvis impersonator, this recently imported Sport Scout benefits from considerable renovation carried out by GCS Motor Cycle Services Ltd of Three Legged Cross, Dorset and comes with their bill for £1,583.01. Works undertaken include refurbishing the wheels; repairing and repainting the fuel tank; cleaning the carburettor; fitting a new battery, tyres and tubes; and moving the throttle and front brake controls to the right-hand side. Said to 'run like a watch', the engine required no work; the electrics though, would benefit from rewiring. The crankcases had already been chrome plated, the engine number being noted by the previous owner as 'FCE 423', and this is also stamped on the rear of the frame. Accompanying documentation consists of the old State of California Certificate of Title and HMR&C letter confirming UK duties paid.
Saleroom notices
Original documents are to be forwarded after the sale.