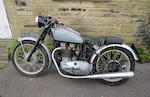 1949 Triumph 499cc Trophy
Registration no. MUG 557
Frame no. TC 113291
Engine no. TR5 9106322
From the time of its introduction in November 1948 the Triumph Trophy was established as a true all-rounder: a machine that could be ridden to work during the week and then, with extraneous components removed, competed on at weekends in its owner's chosen branch of motorcycle sport. Although catalogued primarily as a trials machine, its true forte was scrambles and the ISDT, events in which the power of the tuneable Triumph twin worked to its advantage and its weight was less of a handicap. The arrival of a new swinging-arm frame for 1955 finally put paid to the Trophy's pretensions as a one-day trials mount, for although the rear suspension enhanced traction and improved the handling, the lengthened wheelbase and increased weight rendered it un-competitive. Nevertheless, the TR5 remained an extremely competent and stylish roadster until the end of production in 1958. This particular Trophy has the alloy cylinder block, developed for the wartime airborne generator engine, which is correct for the 1949 and 1950 models. Restored in the 1970s, 'MUG 557' was in regular use in the 1980s, the vendor using it for 'café runs' from his home in Leeds to Skipton and back. The machine has been in storage for the last 30-or-so years and will require re-commissioning and the customary safety checks before further use. There are no documents with this Lot.
Saleroom notices
this machine is offered with an old style logbook.