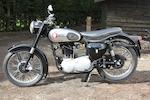 1959 BSA 499cc B33
Registration no. XFO 979
Frame no. FB31 3989
Engine no. B33 922
A development of the 350cc B31, the 500cc B33 was manufactured from 1947 to 1960. The engine closely followed B31 lines but with larger (85mm) bore and heavier flywheels. Cycle parts were identical apart from a larger-section rear tyre. Produced initially with rigid frame and telescopic forks, the B33 was available from 1949 with optional plunger rear suspension and switched to a swinging-arm frame, along with the rest of the range, in 1954. A good, solid, all-round performer by the standards of its day, the B33 could top 80mph, cruise comfortably all day at 70mph and return in excess of 70mpg. A late model equipped with alternator electrics, this B33 was purchased by the current vendor via Bol d'Or Motorcycles of Tenterden, Kent in 1996 (sales invoice on file). Last MoT'd in 2001/2002, 'XFO 979' is described as in generally very good condition and should require only minimal re-commissioning before returning to the road. The machine is offered with assorted correspondence, five expired MoT certificates, four old tax discs, V5 registration document and some photocopied road tests, etc.
Saleroom notices
The Engine number is GB33.922.