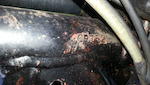 1958 Ariel 350cc HT3 Trials Motorcycle
Registration no. WOB 374
Frame no. CRT529
Engine no. TH122
By the mid-1950s the swinging-arm frame's superiority had begun to be recognised in the trials world, overturning the conventional view that a rigid frame gave better grip. Ariel was one of the last manufacturers to introduce a trials frame with rear suspension, the prototype of what would become the HT first appearing at the 1955 Scottish Six Days event with production proper of the 350cc HT3 and 500cc HT5 commencing in September of that year. Little was achieved by the works HTs in their first season but the arrival of Ron Langston for 1956 brought with it the success Ariel had been seeking, their new signing winning the Cotswold and Greensmith trials. For the next few seasons the HT was the class of the field. Arguably the most capable of the 'heavyweight' trials irons, the HT disappeared along with the other Ariel four-strokes in 1959 after only 450-or-so HT5s had been made, though Sammy Miller's famous and much modified example - 'GOV 132' - would continue winning at the highest level well into the 1960s.

The machine offered here is an example of the ultra-rare HT3, of which it is estimated that fewer than 40 were made. 'WOB 374' was purchased by the current vendor 40 years ago and campaigned on road trials and other events in and around the county of Cornwall between 1982 and 1997 (see photograph on file of the vendor competing in the Cornwall Centre A-CU End-to-End Trial of 1993). Unused for the last five-or-so years while in dry storage, the machine has nevertheless been started regularly and is reported as being in good running order. Re-commissioning and the customary safety checks are advised before further use. Presented in largely un-restored and original condition, this rare classic 'trials iron' is offered with V5C registration document.