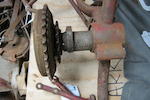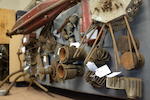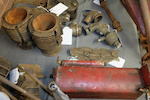 1915 Indian 7hp 'Big Twin' Project
Registration no. LP 3071
Engine no. 81G842
This Indian Big Twin was given to the vendor approximately 45 years ago in its present, dismantled, condition. Initially intending to restore the machine, the owner has been always occupied by other vehicles and never managed to start the work. Realising that he will not now restore the Indian, he has decided to pass it on to a fortunate new owner who can enjoy returning the machine to roadworthy condition. First registered in London in 1915, the Indian still bears the transfers of the supplying dealer: W H Elce & Co of 15 Bishopgate Avenue, Camomile Street, London EC. Although the wheels are missing, most of the machine's other parts appear present, even down to the toolbox still containing some of the original Indian tools. It is possible that the paintwork is original. The machine has a free-engine clutch, the optional Semi-TT racing handlebars, and comes with a spare cylinder head. Numerous parts not illustrated in the main photograph are contained in accompanying boxes, inspection of which is recommended. Prospective purchasers should satisfy themselves as to the completeness, or otherwise, of this motorcycle prior to bidding. There are no documents with this Lot, which is offered for restoration and sold strictly as viewed.