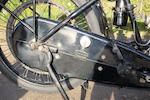 1915 Sunbeam 3½hp
Registration no. K 9429
Frame no. 2842
Engine no. 2838
The first Sunbeam motorcycle - a 350cc side-valve single - left the Wolverhampton premises of John Marston, hitherto a manufacturer of finest quality enamelled goods, bicycles and - latterly - cars, in 1912. Designed by Harry Stevens (later to found AJS) the 2¾hp Sunbeam was equipped with a two-speed countershaft gearbox and fully enclosed all-chain drive, proving an instant success in an era when the norm was hub gears and belt-drive. Like Marston's other products, his motorcycles soon established a reputation for sound construction and exemplary finish. Their racetrack performances did nothing to discourage sales either. Howard Davies (later to found the H.R.D. marque) finished second in the 1914 Senior TT on his and Sunbeam's first visit to the Island, and Tommy De La Hay inherited victory in the 1920 Senior after George Dance, also Sunbeam-mounted, retired while leading. Sunbeam's second model was the John Greenwood-designed 3½hp of 1913. A sidevalve single like its predecessor, the 3½hp came with a three-speed hand-change gearbox and fully enclosed oil-bath chain cases, the latter first seen on the company's bicycles. With the coming of WWI, most of Sunbeam's production was earmarked for Allied forces, the biggest 'home' user being the Royal Naval Air Service (forerunner of the Fleet Air Arm), which ordered the 3½hp as its favoured model.

This handsome and mostly original Sunbeam was first acquired by the current vendor in 1974, subsequently sold and then repurchased in 1998 having been off the road for ten years (the 1988 tax disc is still in the holder). Some 30 years ago it was displayed at Selfridge's department store (see photographs on file). When inspected recently, the Sunbeam fired up (for the first time since 1988) but will nevertheless require re-commissioning following such a lengthy period out of use. The machine is offered with old-style continuation logbook, as-purchased photograph (1974) and old-style V5 registration document, the latter erroneously recording the engine capacity as 250cc. It should be noted that the carburettor is believed to be Triumph in origin.