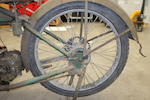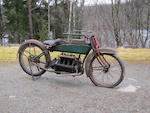 Property of a deceased's estate
c.1917 Henderson Model D Four
'This machine, the brilliant conception of William G Henderson, immediately proved itself to be what the public wanted. Born in 1912, it lived a busy, successful and altogether sparkling life for a period of 19 years.' – T A Hodgdon, 'Golden Age of the Fours'.

One of the most charismatic names in American motorcycling history, Henderson produced nothing but four-cylinder motorcycles in the course of its 19-year existence. Founded by Tom and William Henderson in Detroit in 1911, the firm passed into the control of Chicago-based cycle maker Ignaz Schwinn, owner of Excelsior, in 1917. The Hendersons soon moved on to found the Ace motorcycle company - later taken over by Indian - and thereby had a hand in the design of all the major American-built fours. Although early models featured an unusually lengthy frame extending well forward of the engine, the Henderson, like the contemporary Indian and Harley-Davidson, was an advanced design for its day. Displacing 965cc initially, the air-cooled cylinders were arranged longitudinally in the frame and employed mechanically operated 'F-head' (inlet-over-exhaust) valve gear. There was single-gear transmission but the Henderson outclassed its rivals for convenience by having a free engine clutch and a hand-crank starter instead of pedals. The engine was enlarged to 1,064cc for 1913 while a shorter frame, folding kick-starter and three-speed sliding-gear transmission were all Henderson features by 1917. According to Hodgdon: 'the 1917 improvements soon demonstrated that the Henderson was really quite a motorcycle, able to outdo and outperform the several makes of big twins then on the market.'

A short-frame three-speeder, this example of one of the most desirable of all American motorcycles was sold new in Norway and has been in the late owner's possession for at least the last 40 years. An avid collector, he would drive around Norway in a lorry (with a tent on the back) buying, swapping and accumulating classic vehicles. The Henderson was discovered and purchased on one of these collecting trips. Restoration was planned but never started, and the machine has remained untouched as part of the owner's private collection. There are no documents with this Lot, which is offered for restoration and sold strictly as viewed.
Footnotes
Saleroom notices
This machine was, when purchased by the late owner, fitted with a sidecar. The remains of the sidecar, including the body and wheel (but not the chassis), are offered with the lot, together with what is believed to be the original petrol tank and carburettor.