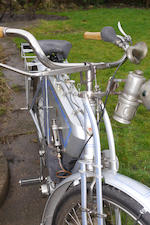 1905 Rex 3½hp
Registration no. BS 8318
Frame no. 15914
Engine no. 763
An innovative marque from the time of its inception in 1899 as a motor manufacturer, Rex demonstrated its first motorcycle in 1900 while continuing to make automobiles and tri-cars. The Coventry-based firm was soon active in all types of motorcycle competition, including the inaugural 1907 Isle of Man TT where Billy Heaton's sprung-fork Rex finished second in the twin-cylinder class. Prior to that Rex had exploited the valuable publicity that accrued from the popular long-distance events of the day, in particular the famous Lands End to John O'Groats journey between the most southerly and northerly parts of mainland Britain. Brothers Billy and Harold Williamson were in charge of Rex at this time, as managing and sales directors respectively, and it was the latter who in 1904 established a new record for this 880-mile marathon, which in those days involved travel over rough, un-surfaced and often treacherous roads. Riding a 3¼hp (approximately 380cc) Rex, Williamson took 48 hours 36 minutes, which included lengthy stops to repair punctures, beating the existing mark by 2½ hours.

Rex continued manufacturing its own power units until the early 1920s, after which proprietary engines became the norm. By this time neighbours Coventry Acme had been taken over and in the next few years the ranges were rationalised, the 'Rex-Acme' name being adopted in 1921. Despite many racetrack successes, both in the Isle of Man and at Brooklands, the firm became a casualty of the Depression, and although there was a brief revival, was gone for good by 1933.

Dating from the Rex's Edwardian heyday, this 3½hp model was in a rusty condition when purchased in Shropshire. It was subsequently restored in two stages: the first to get it running and the second to finish the rebuild and get it painted. Since completion in 2005 the machine has been used enthusiastically, taking part in the Pioneer and Banbury Runs and winning awards at the Burton Parade and Levis Cup Trial. Prior to the Stafford sale it will have been ridden in this year's Pioneer Run. The machine has been fitted with a side stand, which is quicker and easier to use than the rear stand (no alterations have been made to the frame). Coil ignition and a replica Longuemare carburettor are the only other notified deviations from factory specification. Currently taxed, the machine is offered with Pioneer, VMCC and Science Museum certificates, three expired MoT certificates and old/current V5/V5C documents. The original fuel tank, front mudguard, stays and trembler coil backing plate are included in the sale.