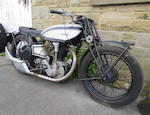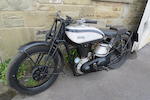 1933 Norton 490cc CS1
Registration no. VH 5524
Frame no. 50102
Engine no. CS 52756
Following its successful Senior TT-winning debut in 1927, the overhead-camshaft Norton had enjoyed mixed fortunes in the Isle of Man, and when the engine's designer, Walter Moore, left to join NSU, Arthur Carroll was charged with carrying out an extensive redesign. First seen in the works racers in 1930, the new motor borrowed features from the successful KTT Velocette, contriving to look very different from its predecessor while remaining unmistakably Norton in execution. The Carroll engine retained the classic 79x100mm bore/stroke dimensions and shaft-and-bevels cam drive of the Moore unit but shifted the magneto drive to the right-hand end of the crankshaft where it was enclosed in a distinctive timing case. The new overhead-cam racer was not an immediate success - 1930 was Rudge's year in the Isle of Man - but came good in 1931 when works rider Tim Hunt kick-started a four-year period of Norton TT domination by winning both the Junior and Senior events. Towards the end of 1930, the Carroll-type engine was introduced on the CS and CJ road models, which hitherto had used the Moore-type engine, and in 1932 these were joined by a new top-of-the-range sports roadster - the International or 'Inter' - that bore a closer resemblance to the works racers and was equally at home on the track. Restored in the 1970s, this CS1 'barn find' was purchased by the current owner in June 1983 and last MoT'd and ridden in 1985, since when it has been kept in dry storage. Re-commissioning and the customary safety checks will be required before further use. Offered with V5C registration document.
Saleroom notices
The Frame number is 5 50121.