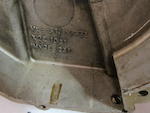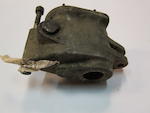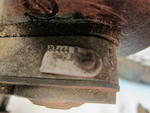 Property of a deceased's estate
1939 Brough Superior 990cc SS80 Project
Registration no. GJO 560
Frame no. M8/2094
Engine no. BS/X 4757
While equalling a Rolls-Royce for quality of construction and finish, in spirit the Brough Superior was more akin to the sporting Bentley. Introduced in 1922, the JAP-powered SS80 (so-called because of its guaranteed 80mph top speed in road trim) achieved instant fame when a stripped-for-racing version (nicknamed 'Spit and Polish') ridden by George Brough became the first sidevalve-engined machine to lap Brooklands at over 100mph.

Brough entered the 1930s with an entirely JAP-powered range and then, after a brief absence, the SS80 reappeared in 1935 as the SS80 Special, this time with an engine built by Associated Motor Cycles. Similar to that of the Matchless Model X, the 982cc sidevalve v-twin incorporated Brough's preferred 'knife-and-fork' big-end bearing arrangement instead of the side-by-side connecting rods of the Matchless. The SS80 continued to use the AMC engine until production ceased in 1939.

Retaining matching frame and engine numbers, this example is one of 460 Matchless-engined SS80s built, of which some 300-or-so survive. 'GJO 560' was supplied new by Layton's of Oxford on 10th January 1939. The earliest registration document on file, an old-style buff logbook issued in 1958, records the owner at that time as one Adrian Richard Upfold of Aldershot. However, Mr Upfold may have acquired the machine somewhat earlier as evidenced by numerous bills for spare parts supplied by George Brough Ltd, the earliest of which is dated 1956. By 1968/69 'GJO 560' had passed to the late owner, who joined the Brough Club at around that time. Subsequently dismantled as a prelude to restoration, it is offered in that state today. Parts present include the frame, fuel tank (non-original but probably from one of the late owner's other Broughs), oil tank, forks, wheels/brakes, headlamp, speedometer, gearbox (non-original but of correct pattern), clutch, primary drive cover, sprockets, rider's saddle, pillion saddle, rear chain guard, footrests, mudguards and mudguard stays. Engine components present include the crankcases, crankshaft and con-rods (built up), cylinders, cylinder heads, pistons, cams, timing cover, tappet covers, carburettor and magdyno. However, the motorcycle is by no means complete and is therefore sold strictly as viewed. Accompanying paperwork consists of the aforementioned logbook and invoices; assorted Brough-related literature; and an old-style V5 registration document.