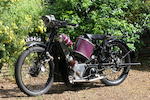 1926 Scott 498cc Super Squirrel
Registration no. IK 9455
Frame no. 2185
Engine no. Z9440
'...for my money the two-speeder of 1925-26 is the last Scott to be truly representative of Alfred Angas.' – C E A 'Titch' Allen, The First Vintage Road Test Journal.

Two-speed Scotts have a proud and distinguished history, which can be traced back directly to Alfred Angas Scott's original ground breaking design for these famous water-cooled twin-cylinder two-strokes. New-for-1925, the Super Squirrel was based on the 1924 TT machines.

Most of this Scott's history is known. It was supplied by the factory to Woods, their Dublin dealer, on 17th July 1926. Factory records confirm that the engine and frame are the original pairing, and that it was supplied without a magneto or saddle, presumably because the new owner, Francis Howard Crowe of Shrewsbury Road, Dublin, intended to fit his own favourite items. He took delivery of the Scott on 27th July 1926. The last recorded Irish owner was Patrick McMahon, also of Dublin, who last licensed the machine in 1941.

In the 1960s the Scott was rediscovered by Peter Godwin in a shed in County Tipperary. An accompanying card from the Scott factory (complete with the original 'works' envelope) dated 17.11.65 confirms the machine's despatch details. There is also a letter from H M Customs & Excise concerning its re-importation. According to the accompanying old-style logbook, it was registered in Coventry on 6th May 1969. Pleasingly, the original Irish registration number has been retained. A copy of a photograph that appeared in 'Yowl' (the Scott Club magazine) in January 1970 is supplied also.

Apparently, Peter Godwin restored the machine in the late 1960s and kept it until 1983. It then passed through the hands of a few owners over the next 27 years. The vendor, a long-term Scott enthusiast and Scott Owners Club committee member, bought it from Verrall's in June 2010. He has ridden it in The Graham Walker Run; the 2011 Banbury Run (the accompanying OBM review of the event specifically mentions the machine); and on longish rides in the Peak District on Scott Club Abbotsholme weekends as well as other regular usage over the last four years. 'IK 9455' was the subject of a four-page feature in January 2012's The Classic Motorcycle (article supplied). Wire-on wheel rims, which might be considered a desirable upgrade, are the only noted deviation from standard.

The most recent MoT certificate was issued in May 2012. A further 13 earlier MoT certificates are supplied, as are 12 old tax discs, the oldest dated 1969. Currently taxed and offered with V5C, the Scott is being sold only because of a lack of space and other Scott two-speeder projects on the bench.