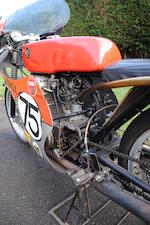 The Ex-Ken Armstrong, John Lawley, Isle of Man Lightweight TT
1964 Honda 125cc CR93 Racing Motorcycle
Frame no. CR93-3100170
Engine no. CR93E 3100156
'It was robustly reliable, steered and handled to perfection, was, if anything, over-braked, and would exceed 100mph. At a stroke it made all other 125cc machinery in Britain obsolete. The CR93 was not cheap but it was, quite simply, built to exactly the same high standard as Honda's own racing machinery.' - Brian Woolley, Classic Racer magazine.

Just one year after its breakthrough first success at World Championship level in 1961, Honda made its state-of-the-art Grand Prix technology available to privateers in the form of the 50cc CR110 and 125cc CR93 over-the-counter racers. Like their works equivalents, the 50cc single and 125cc twin employed gear-driven double overhead camshafts and four valves per cylinder, this combination of tiny cylinders and minuscule valves enabling them to rev safely well into five figures, the CR93's ceiling being a then stratospheric 13,000rpm with maximum power of 16.5bhp arriving at 11,500 revs. Both models employed a tubular-steel frame, devoid of lower rails, to which was attached a conventional set of cycle parts, and while the '50' boasted no fewer than eight gears in the 'box, the more tractable '125' made do with six. The duo immediately achieved a dominance of their respective classes that would last for many years, and countless stars of the future including Bill Ivy, Jim Curry, Rod Scivyer and sidecar champion Chris Vincent, gained their early experience aboard the diminutive CRs. Only 40-or-so CR93s were imported into the UK and today they are highly sought after by classic racers and collectors alike.

This particular CR93 was ridden by Ken Armstrong to 10th place in the Isle of Man 125 TT in 1970 and has been owned by the late John Lawley since 1971. John raced the little Honda in the 1971 and 1972 Lightweight 125 TTs, recording a 'DNF' on both occasions, and then finished 24th in 1973, a result he repeated the following year. He was a member of the winning club team in '73 and '74, and in the latter year also rode the CR (temporarily enlarged to 182cc) in the Lightweight 250 TT, recording a 'DNF'. John also rode the Honda on the 1979, 1981 and 1982 Isle of Man TT 'Lap of Honour' parades. The machine is presented in 'as last raced' condition and will, of course, require re-commissioning before returning to the racetrack.