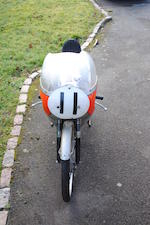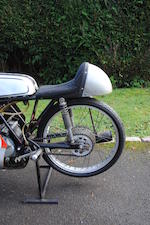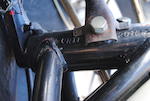 The Ex-John Lawley, Isle of Man TT
c.1963 Honda 50cc CR110 Racing Motorcycle
Frame no. CR110 20169
Engine no. CR110E 20283
'Not only did they epitomise the virtues of a racing motorcycle, being small, light, fast and simple, but they handled wonderfully well, and if properly (and rather expensively) maintained they were remarkably reliable.' – Brian Woolley on the Honda CRs, Directory of Classic Racing Motorcycles.

Little more than one year after its breakthrough first success at World Championship level in 1961, Honda made its state-of-the-art Grand Prix technology available to privateers in the form of the 50cc CR110 and 125cc CR93 over-the-counter racers. Like their works equivalents, the 50cc single and 125cc twin employed gear-driven double overhead camshafts and four valves per cylinder, this combination of tiny cylinders and minuscule valves enabling them to rev safely well into five figures, the CR110's maximum power of 8.5bhp arriving at a then stratospheric 13,500rpm. Both models employed a tubular steel frame, devoid of lower rails, to which was attached a conventional set of cycle parts, and while the '50' boasted no fewer than eight gears in the gearbox, the more tractable '125' made do with six. First made available in 1963, the duo immediately achieved a dominance of their respective classes that would last for many years, and countless stars of the future, including Bill Ivy, Jim Curry, Rod Scivyer and sidecar champion Chris Vincent, gained their early experience aboard the diminutive CRs.

This CR110 is one of 90 manufactured for the 1963 season of which only 22 were exported to Europe. The Honda's history is not known prior to its acquisition by John Lawley, who raced the machine in the 1966, 1967 and 1968 Isle of Man 50cc TTs. John's 7th place in the '68 race was his best ever TT result, netting him a coveted Silver Replica, while 10th in '67 was good enough for a Bronze. He also raced the Honda at the Ulster Grand Prix in 1969 (9th) and 1970. The machine was also ridden on the Isle of Man TT 'Lap of Honour' parades in the 1980s and last ran in 1993. Offered in need of re-commissioning, it represents a wonderful opportunity to acquire one of these jewel-like masterpieces, which are highly sought after by classic racers and collectors alike.