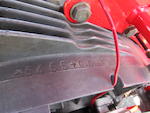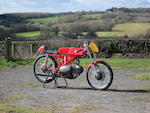 1964 Motobi 125cc Racing Motorcycle
Engine no. 6465.G.O.BEN.S.125
Italy's oldest surviving motorcycle manufacturer, Benelli was founded in Pesaro in 1911 by the six Benelli brothers, starting out as a general engineering firm repairing cars and motorcycles before turning to the manufacture of automotive and aircraft components in WWI. The firm diversified into the field of powered transport immediately after WWI, offering a two-stroke 'clip-on' power unit for attachment to a bicycle, and it was this 98cc engine, installed in a purpose-built set of cycle parts, that was used for the first proper Benelli motorcycle of 1921. Within a few years the firm was actively engaged in competitions, taking the first steps along a path to Grand Prix glory that would see Benelli established as one of Italy's foremost racing marques post-WW2. In 1950 Giovanni Benelli left the family firm to set up 'MotoBi', introducing a range of lightweights powered by distinctive egg-shaped two-stroke engines featuring horizontal cylinders. A range of four-strokes was built later but the overall look of the MotoBi engine remained the same. MotoBi was reabsorbed by Benelli in 1962 and sometime later the bikes became re-badged Benellis.

Previously forming part of the Professor Fritz Ehn Collection, this four-stroke Motobi was purchased by the current vendor at Bonhams' sale of the Ehn Collection at the RAF Museum, Hendon in June 2008 (Lot 364). The machine had been competing in 'Oldtimer' races in Italy when it was purchased by Professor Ehn in 1980. Kept in storage as part of the vendor's extensive private collection, it has not been used since acquisition, although it was started recently. Re-commissioning and the customary safety checks will be required before further use. There are no documents with this Lot.
Saleroom notices
There is no Frame number visible.