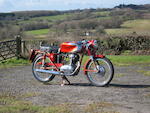 1960 Ducati 175cc 'Silverstone'
Registration no. OVL 982
Frame no. 151768DM
Engine no. 78833DM175
Designed by Fabio Taglioni, the first Ducati overhead-camshaft single - the 100 Gran Sport - appeared on the racetrack in 1954 and soon proved unbeatable in its class. Taglioni's versatile design proved capable of considerable enlargement and was produced in various capacities from the original 98cc up to 450cc. A pair of 175cc roadsters was introduced for the 1956 season, the sports version of which (known as the 'Silverstone' in the UK) was capable of more than 80mph, an astonishing achievement at the time and one that helped establish the giant killing reputation long enjoyed by Ducati's miniature masterpieces. In 1959 the engine capacity was increased to 204cc for the Elite and 200SS models. Top speed of either was in the region of 85mph. Lightweight, nimble, sure-footed and possessing a gem of an engine that sounds glorious when it comes 'on the cam', these little Dukes are a purist's delight to ride. This Ducati had been in long-term ownership, seeing only infrequent use since being restored in 1990, when it was offered for sale at Bonhams' Harrogate auction in November 2009 (Lot 377). Purchased by the current vendor c.2011, the machine has been kept in storage as part of his extensive private collection since acquisition, and although not used has been started recently. Re-commissioning and the customary safety checks will be required before it returns to the road. The machine is offered with V5C registration document and four expired MoTs dating from 1979 at 12,265 miles to 1992 at 12,834. The current odometer reading is 12,950 miles. Sold strictly as viewed, an Elite fuel tank and rear numberplate bracket are the only notified deviations from factory specification.